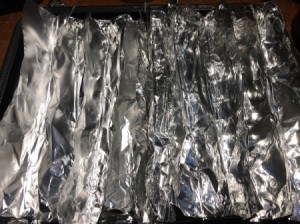 I love baking my strips of bacon in the oven. You don't have to stand over the stove, dodging oil splatters, while trying to juggle cooking times of other items you're making. However, to boost the "best" in your oven baked bacon, try this little homemade bacon tray trick.
Take a sheet of aluminum foil a bit longer than your baking sheet, and accordion-fold it every one inch. Tug at the ends of the foil and lay the bacon on top. Cook bacon in preheated 400 degree F oven for 6 minutes, turn the tray around, then cook another 6 minutes. You don't need to flip the bacon, they'll just cook perfectly all over on their own. The bacon fat will drip down and catch in the folds.
For thicker bacon, or extra crispy bacon, just add a few minutes of time. This is especially fantastic for when you have to make loads of bacon in one go.