My boyfriend and I have been together for 2 years. I don't have a job currently and I'm 17; he's turning 20. For his birthday I made him a cake and bought two t-shirts.
Now I don't know what to do? I have a limit of at least 40$. I want something memorable. I was going to make him a video, but I thought that was something more for like Valentines Day? Any ideas?

By Tania
Answers:
Birthday Gift Ideas for Boyfriend
I think you have been overly generous with your gifts. It should have been enough to receive a cake. For the next event make it muffins, then cookies, and back to a cake. Stop spending your money unnecessarily, you are not independently wealthy. Just because he can treat you to a wonderfully extravagant day does not mean you have to reciprocate the same. (12/29/2010)

By cookwie
Birthday Gift Ideas for Boyfriend
Guys can never have enough clean underwear, especially teens. My nephew is athletic, so I bought him a 12-pack of jockstraps to hold him through the year. Just toss out when dirty. A real blessing for him and his mom! You can get a 12-pack at Sears for about $10.
If he likes more conventional underwear, my teen son tells me that Undergear is popular among his friends for a hip hop look. They have a large variety of unique styles that kids seem to like. (12/31/2010)

By BriannaN
Birthday Gift Ideas for Boyfriend
I'm told that the leg warmers that were so popular in the 1980's are making a comeback, especially among young males influenced by sports and urban music.
(12/31/2010)

By bryguyf69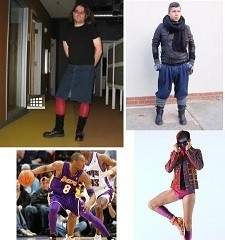 Birthday Gift Ideas for Boyfriend
A cake and two t-shirts is plenty. Save your $$. (01/03/2011)

By Vaylmer