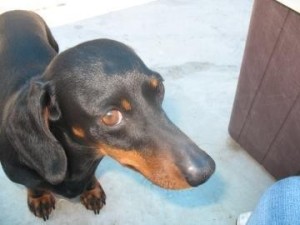 Last May, while I was walking my three Dachshunds, I was attacked by a Pit Bull. It knocked me down and then ripped up one of my dogs on top of me. My dog was unable to survive the attack and the Pit Bull had to be put down. I went into therapy for post-traumatic stress disorder.
I still walk my remaining dogs and carry a stun gun. You have to actually touch the dog to stun it. However, when you aim the gun and push the button, it emits an electric charge which scares dogs. It has subsequently saved me twice. I carry it every time I walk a dog and keep it handy in my hand while I walk. I feel much safer. This is the dog that was killed.
By Maya Lee from Redlands, CA
Comments
February 5, 2012
1

found this helpful
Top Comment
I am unable to walk my 2 dachshunds in my neighborhood because of several large dogs who are allowed by their owners to run loose and will attack, not just smaller dogs but humans walking alone too, so I am not able to walk even without my dogs.
I had checked into carrying a stun gun or pepper spray or anything to protect us from these dogs, but they are illegal in my town and county.
Before anyone buys one of these, check in your area if it is legal.
I wish everyone luck and that they find they can carry them legally. I dearly wish I could here, because I would sure carry one. This is a great idea, as long as it is legal in your area.
February 9, 2007
1

found this helpful
The best way to break up a dog fight is to throw water on the dogs. This will usually startle the dogs enough to stop the fighting. Breaking up a dog fight with your hands can be very dangerous as you are liable to get bit or scratched. When I go to the dog park I bring a half gallon Tupperware container full of water. It's been enough to break up any altercation between dogs. Most dog parks have a faucet so I can refill it if I need to.
By Deb
October 15, 2007
2

found this helpful
To break up dog fights, especially at a dog park where you may not have water available to squirt, vigorously shake a can filled with rocks so you can make a lot of noise. This scares and distracts the dogs enough to run in separate directions. Banging two metal feeding bowls together has the same effect.

By Karin from Fresno, CA