February 9, 2007
0

found this helpful
theres another way i know of that also works. Ive seen water not work but PEPPER just about always works! they have to sneeze and feel temporary pain long enuf to stop the fight. Also, pepper weighs a lot less lol. :)
March 20, 2007
0

found this helpful
As a professional dog trainer, I must disagree with your suggestion of throwing water on fighting dogs.
When two dogs are fighting, the best thing to do is get another person to help you. Get behind one of the dogs and grab it's back feet at the ankles (if you can). Pull the dog away from the other one and put a leash on the dog if you have one. The other person can either do the same to the other dog or just put a leash on it and get it under control.
When a dog is engaged in a fight, it's brain is only focused on fighting and nothing else. Calling the dog, yelling at the dog and grabbing the dog by the collar will not work, in fact, you are likely to get bit even if you are the dog's owner. The dog doesn't care who you are or what you are doing, all it wants to do is kill the other dog.
Water might work but not likely. I suppose if you were to spray the dog up it's nose so it can't breathe, that might slow him down but it won't contain him when his brain is excited in fighting.
Pepper spray will work and it does sound harsh to use this on your dog but it's better than your dog getting killed or maimed.
By guest (Guest Post)
October 23, 2008
0

found this helpful
My two male dogs will occasionally fight, and my friend told me: let them fight, they aren't doing it to kill eachother if they aren't drawing blood -- I realized , this is true -- they stop on their own, don't draw blood, so am assuming it is just to establish pecking order. Of course, these are my own two dogs been together for 4 years at home, not at a public facility.
January 29, 2012
0

found this helpful
Try carrying a small spray bottle of simple vinegar with you on walks. An adjustable nozzle that allows a long spurt is preferable to keep you away from the fracas, as you wil be no help to your dog if you are injured yourself. Vinegar is harmless, but smells disgusting to dogs, and a bit sprayed on the back of the head might be just the trick. Don't spray into the eyes, as it is not sprayed as a weapon, just a sidetracking deterrent.
January 29, 2012
0

found this helpful
You obviously haven't seen an actual dog "fight". Water probably works for dogs that get into it over a toy or food but water will not break up a fight for dogs that are dog aggressive.
Two of my male dogs would get into fights over dominance. Both wanted to be alpha and as you know, there can only be one alpha. My 6'1" 270 lbs husband was the only thing that could break them apart, and even then he had trouble. Out of all the years dealing with blood, vet trips, stitches, separation, and training - old age was the only thing that stopped the issue.
When 2 head strong dogs already have their minds made up about fighting, human interference is the only way to get them apart.
January 30, 2012
0

found this helpful
I've had some really horrible dog fights. The worst was when one of my young pitbulls went under a fence into a dog area with 9 chow mixes. The dog survived, I survived with 45 stitches and thanks to having a leash & heavy choke chain I held the dogs off till my husband came out to check on me 30 minutes later. In the coming days and months I spent time rethinking the whole scenario, new security, between the 2 groups of animals, scheduling play time and reevaluating myself and making serious changes.
I have gotten ugly on my dogs, physical and have put the fear of god into them to get them in line. I'd like to say that training and rational human thinking works but it's not so. Dogs understand Alpha behavior and I maintain that role at all times. I take care of problem behavior immediately, every time, no exception. My justice is swift. The other important step toward better behavior is exercise every single day like playing, running, sniffing and getting silly. Dog have to run out their energy that they accumulate. No exercise and you'll start seeing the bad behaviors like chewing, chasing other animals, aggression and fighting. Exercise the dog and it goes away.
Last. All dogs should be wearing to correct equipment in public. This mean a metal collar with the prongs (with rubber ends). It is the only way to maintain complete control of a dog...not a choker, harness or collar, ever. If your dog is aggressive buy a plastic muzzle (I love them) that fits well on the muzzle and around the neck. The dog should always wear it in public. It beats having a lawsuit.
Owning animals is a responsibility that requires time, knowledge and consistency. If you're having problems, just go to a PetCo or PetSmart and talk to one of their trainers about classes or at your local vet. Get your dog into a class and you will be taught how to be your dogs best friend...sit stay, down stay.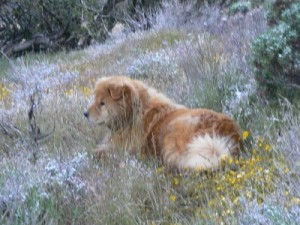 January 30, 2012
0

found this helpful
Yeah water doesn't do much. When Dogs are fighting like mine do over stupid crap like a toy , I use a Blanket to disorient them or I do the grab the back legs. Do not pull on a dogs collar as you are gonna get bit.
But if Water works for you then ok, but be safe and if your dog is starting fights at a Dog park, don't you think you should cease taking your dog there.
Your putting others at risk. Be a smart dog owner.
January 30, 2012
0

found this helpful
How about owners using plastic basket dog muzzles in dog parks if one is aggressive? They can open their mouths a bit, pant and be kind of natural. The dog cannot bite through the basket. It sure would making the outings more friendly for the dogs and people. For some reason, no one does it.
site with example plastic muzzles: http://www.morr … dogmuzzles1.html

February 2, 2012
0

found this helpful
I have two Alpha Females. Not all dog fights are equal.
In our situation, grabbing Rosie by the back legs and trying to pull her out of a fight does not work. She hung in mid air and still did not let go. She was a feral puppy before adopting us and she is fierce.
If you've ever seen the fight scene between Old Yeller and the Bear those are the type of fights we have. Both our dogs are large.
Like it or not, there are times that two dogs will never get along, no matter what you do. Sort of like two rival gangs fighting over a street, no one wins and the fights continue.
I love both my dogs and its very, very upsetting to not have them get a long. Using pepper spray did not break up a fight in my case. We're talking stitches, staples and trips to the Vet and Emergency Room for us humans.
Over the years I've tried everything I know and then some, the only solution in our case is keeping the two separated.
We have two crates in our Den and 2 dog couches. When we watch TV one of the dogs is always in a crate with no exceptions. I rotate them out but they like their crates and prefer to stay in them. They feel safe and don't have to worry about being jumped. I always have one crate secured and these are big crates with comforters in them.
We have them situated next to each of our chairs, have plywood cut to fit on the top of each one and have lamps on them. Sort of like workable furniture.
We use dog gates to separate rooms and Ginger lets me know when she wants to change rooms. I always have one of them with me and Ginger will actually scratch on the gate to let me know she wants to spend time with me and then I swap them out.
All in all it works great and I've even taught them to wait so I can walk one past the other to let them out in the back yard.
I am always in between the two of them. We have a 3rd dog who loves everyone and all our dogs love to sit by the front window and I use that to my advantage. It's almost like a reward and they take turns being in the front.
In my case because Rosie was feral she's always had the mind set to attack first to save her own hide and I understand that. Survival mode is the worse sort of fight any animal can be in.
With time I have learned what to watch for and it basically comes down to knowing what to expect and be prepared.
Both dogs are always fed in their crates, no exception. I also know that Rosie has a tendency to fight when she is overly stimulated so each day, each dog gets quality play time with me alone in another room.
I never have more than one dog in the Living Room at one time. This has stopped all fights if someone knocks on the door.
Because Rosie doesn't play well with others, I never have her around other dogs. She loves people and is great with kids, she's smart and funny. She's a great dog, she just has some issues. I wish I had a quarter for every time someone suggested I find her a new home or put her down. I won't give away a problem and I know her far better than anyone else. Not to mention she's my mouser on the few times we've had an unwanted critter from the field out back in the winter.
Dog fights are very, very dangerous and scary. I tried for years to make everything work out but in the end it never did.
My home is peaceful, quiet and the dogs know what I expect of them. As I write this both are sound asleep in their crates with a handful of dog treats each until I have my breakfast. I do give each dog the same amount of attention and in the end all is well.