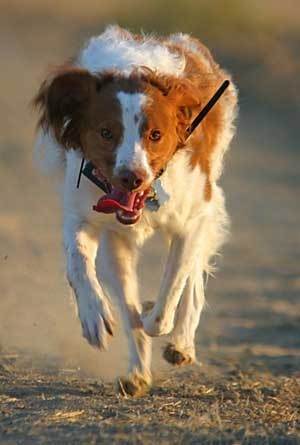 Breed Description:
The Brittany is an energetic, medium-sized dog with a keen ability to point and retrieve with remarkable speed and agility. This breed is small and elegant, yet agile and rugged. Excellent as hunting dogs, the Brittany's smaller size allows them to go where larger dogs cannot and his friendly disposition makes him an excellent companion.
Group: Sporting Group
Purpose of Breed: Hunting Dog, Retrieving Game
Country of Origin: France
Average Size: Brittany Spaniels range from 30 to 40 pounds and 17.5 to 20.5 inches tall.
Color(s): Colors are typically black and white, orange and white, or liver and white.
Coat Type: Their single layer coat consists of fine, lightly fringed hair, either straight or slightly wavy.
Grooming: The Brittany's coat requires brushing once or twice per week. This breed requires standard care for eyes, pads, and nails. Ears should be checked and cleaned regularly to avoid infections.
Exercise Needs: Brittany Spaniels are a very energetic dog breed and therefore do well in a home with a fenced yard. An active owner is essential for this dog breed, since Brittany Spaniels tend to get nervous if not given plenty of exercise
Temperament: The Brittany is a highly energetic and friendly dog breed that possesses great strength of spirit. In the field they are hard-working and reliable. At home they are good natured and do well with children and other pets.
Common Ailments: Susceptible to hip dysplasia, skin problems, and seizures
Life Expectancy: Averages 12-14 years
Trivia: The Brittany was named for the French Province in which it originated.
More Information: American Brittany Club