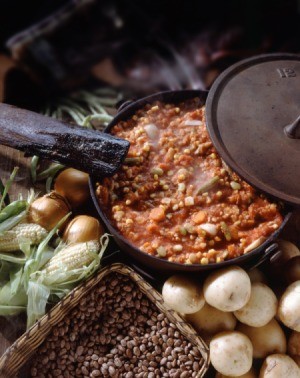 Another "tried and true" family favorite. This is an easy recipe and a combination of several different states' versions of an old traditional southern favorite.
I think every southern state claims to be the originator of Brunswick Stew, but in truth, it's probably one of those family foods which evolved from what the folks had on hand at the time it was made. Years ago, many wild meats such as squirrel, rabbit, and venison were often found in the pot, much like that of an old-fashioned Hunter's Stew. The addition of okra seems to be the most controversial ingredient used. We like okra, but not everyone appreciates it, so it's often left out.
Ingredients:
4 halves boneless, skinless chicken breasts
4 boneless pork chops
2 cups cooked smoked ham, cubed
2 quarts water
2 medium onions, chopped
2 ribs celery, chopped
2 large baking potatoes, peeled and diced
1 (29 oz.) can tomatoes, cut up
3 cups fresh cut okra (optional)
1 (10 oz.) box frozen green lima beans (partially thawed)
1 (10 oz.) box frozen whole kernel white corn, partially thawed
1 Tbsp. instant chicken bouillon
2 tsp. salt
1 tsp. garlic powder
1/2 tsp. seasoned salt
1 tsp. sugar
1/4 tsp. black pepper
Directions:
Into a large soup pot, combine chicken and pork (both cut into bite-sized pieces), with water, onion, cubed cooked ham, and potatoes. Bring to a boil, cover, reduce heat to simmer and allow to simmer gently for 3-4 hours, and chicken and pork are well done.
Add tomatoes, okra, lima beans, corn, salt, pepper, seasoned salt, bouillon, sugar, and garlic powder. Bring back to a boil, and boil for 10 minutes, then cover and, once again, reduce heat to simmer and simmer for an additional hour.
Taste and adjust seasonings. Serve hot in large bowls with wedges of freshly baked cornbread.
Note: Serve over a bed of brown or white rice if you need to feed more than 8 hungry people. Although it's a non-traditional variation of my own, it's a simple and nutritious addition if you are feeding an unexpected crowd of young people.
Servings:
8 or more
Time:
1 Hours Preparation Time
4 + Hours Cooking Time
Source: My Mother who was the best cook I've yet to find. When I cook today, she is as close to me as though she were still by my side.
By Julia from Boca Raton, FL
Read More Comments
(Cut this recipe in half for regular portions).
Ingredients
1 stewing hen or 2 fryers
2 large onions, sliced
2 cups cut okra, opt.
4 cups fresh or 2 cans tomatoes (1lb. each)
2 cups lima beans
3 medium potatoes, diced
4 cups corn off the cob or 2 cans corn (1lb. each)
3 tsp. salt
1 tsp. pepper
1 Tbsp. sugar
Instructions
Cut chicken in pieces and simmer in 3 qts. water for a thin stew, or 2 qts. for a thick stew, until meat can be easily removed from the bones, about 2 1/4 hours. Add raw vegetables to broth, and simmer uncovered until beans and potatoes are tender. Stir occasionally to prevent scorching. Add chicken, boned and diced, if desired, and the seasonings. (If canned veggies are used, include juices and reduce water to 2 qts. for thin stew and 1 qt. for thick stew). The longer and slower stew cooks, the better the flavor. Flavor improves when left to stand overnight and reheated.
By Robin from Washington, IA