November 18, 2009
1

found this helpful
This is a hearty stew with great taste. Not only does it taste good but it's a family tradition.
Ingredients:
2-3 lbs meat (beef, pork, chicken, etc.) chopped into 1 inch cubes
2 cups flour
seasonings
4 large potatoes
1 lb. carrots
1 pkg. celery
1 large onion
4 cloves garlic
1 can tomato sauce
salt and pepper to taste
corn starch
Directions:
Batter meat in flour/pepper/Lawry's seasoning salt. Fry in small amount of oil until browned. Place in large (20 Qt) stock pot and cover with water and 1 can tomato sauce. Add other seasoning as desired (I add Cajun seasoning)
Place on lowest heat possible for 3 hours. Add chopped onions, garlic, potatoes, carrots, celery/salt and pepper to taste. Let cook for 1 to 2 hours more depending on how soft you want your vegetables. Remove 2 cups of broth and add 1/4 cup corn starch.
Mix thoroughly and return to pot. Redo corn starch if necessary to attain desired consistency (basically instead of having roast potatoes and carrots with gravy, we had gravy with roast potatoes and carrots, etc.)
Serve topped with Parmesan cheese.
Feel free to add any additional vegetables and/or seasonings you want.
Servings:
16
Time:
30 Minutes Preparation Time
4-5 Hours Cooking Time
Source: My wife's grandfather
By Jason W. from Edmond, OK
August 26, 2016
0

found this helpful
This is a guide about Brunswick stew recipes. This traditional dish comes out of the American south. It typically has 2 or 3 common ingredients: corn, lima beans or peas, and tomatoes. There are numerous variations on the basic recipe.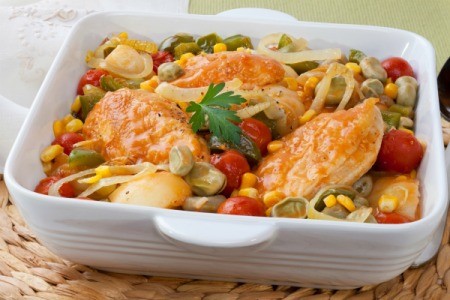 I am looking for a recipe for Mushroom Stew. I remember it had a red gravy and some type of pork perhaps. It was also a little spicy. I enjoyed it at the TP Drive-In in Herkimer, NY years ago. Please help, thanks.
By Barb from Mountaindale, NY
Answers
January 13, 2010
0

found this helpful
Go to Mushroom Stew Recipe plenty recipes there, good luck.
January 13, 2010
0

found this helpful
Try posting this request at http://www.hungrybrowser.com also known as "Ask Uncle Phaedrus." He specializes in finding old recipes or recipes from specific establishments. It might be worth a try!
Hope you find it. I know how much I sometimes hunger for things I had years before. Never had or heard of mushroom stew, though.
January 15, 2010
0

found this helpful
Found this at ;
www.grouprecipes.com
Gomba Porkolt / Pork and Mushroom Stew
By paprikamama
this dish is a traditional dinner for Hungarians, it is full of flavor and is very comforting, my family enjoys this very much served with smashed potatoes and cucumber salad.
---Ingredients
* 1-2 lbs pork steaks, cut in cubes and trim the fat
* 2 med. onions chopped
* 4 T of oil
* 2 tsp paprika
* 3 cloves garlic pressed
* salt to taste
* pepper to taste
* water as needed
* sour cream
* fresh mushrooms halved or quartered.
---Directions
1. In frying pan, saute onions in oil til transparent,
2. Add paprika and mix together
3. Add cubes of meat to lightly brown and stir well to not burn
4. Add water so that it just covers the meat
5. Add pressed garlic and salt and pepper to taste, mix well and often during cooking
6. Cook on low with cover for about 1+1/2 to 2 hours til meat is tender
7. Once done add sour cream and mix well.
8. Serve with mashed potatoes and cucumber salad.
This recipe sounds like I'll try it tomorrow night.
L8r, redskin.
Answer

this Question

...