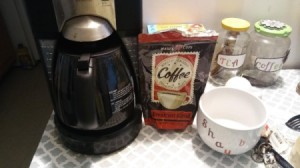 Good day, Thrifty Fun,
I am a lover of flavored coffee. Like many of you, it begins my day with a hug from within. I am here to share a tip with you. I am beyond cheap. I like to use the word frugal. I won't spend money in a coffee shop. I won't say never but, you get it. I have not purchased one in over 20 years.
I brew my favorite Dollar Tree coffee. Then I pour my flavoring in recycled bottles. I left a label on for you to see the bottles. Please don't trash those they are priceless. I then pour in my stevia if needed.
I place them in the fridge since my desired coffee is cold.
The coffee is $1 a bag. The bottles are recycled. If you're using homemade items you're going to spend a ton less than you were before.
All this is possible in less than 30 minutes. Brew and you're halfway there.
Thank you for reading, liking or sharing. Have a nice day.