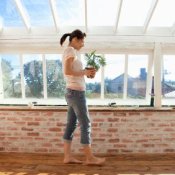 Glass windows cannot be recycled commercially. They get destroyed. Stores replace their l l/2 thick double windows. I found 5 of them and used them to fill in my back porch. They were 300 to 400 lbs. Two men had a hard time lifting them.
They were free so I completely enclosed my porch making it into a sun room that is wonderful.
I collected free windows for my front porch and made a window wall with a plexiglas double roof purchased from a RR damage place at $12/sheet. I got shorter 2 x 4 wood from a building recycling bin so I only had to buy the long ones. It saves a lot of heat and makes a wonderful place to nap, read and enjoy the outside without being outside.
I am sure everyone can locate a window replacement store nearby. Patio doors come in double panes. I remove the aluminum--recycle it--and put the glass in two by four frames with one by twos to hold them in. I calk every crack inside and out.
I even built a glass greenhouse in my back yard and put rows of pine garland across the roof with pine cones and flowers woven in between and down the sides of the window. These rooms are lovely and make my house warm and very livable.
By Jill
Comments
Read More

Comments