Helen
Bronze Answer Medal for All Time! 155 Answers
December 21, 2016
1

found this helpful
Best Answer
You can either harden it or soften it. Harden by rubbing with an ice-cube, and the scrape/ chip gently with a plastic utensil. Or soften by repeated applications of water. Place hot-water soaked kitchen paper over the sugar. Repeat many times. With a little luck the sugar may soften and begin to come off. Failing that, just continual gentle cleaning may erode it.

December 22, 2016
0

found this helpful
I have been doing this all night. Even bought new razor kit to make sure I had new, sharp ones. I am beginning to think the burn is cooked into the surface. I have been at this for over a week.
I appreciate your response to my dilemma.

December 22, 2016
1

found this helpful
Best Answer
I have a smooth top stove also and really love it; I have had many spills but never sugar.
It would seem that some of the ways to clean off burnt food would/might work with your problem.
I generally use only baking soda, water, vinegar, or Barkeepers friend on my top and one of these usually cleans beautifully. I have found that none of these causes pitting of the top while other methods may do so (rumors I have heard). Many people swear by a razor blade but I (personally) do not feel safe using a razor blade.
Most of the time I just take a dish cloth, soak it in water and put it in the microwave for 1-3 minutes.
Remove the cloth with tongs as it will be very hot. Lay the hot cloth on the food leave it for a few minutes and remove cloth and wipe away any dissolved food. I have had to do this 2 or 3 times for some spills.
Another method that has worked for me is to sprinkle a thick layer of baking soda over the spill and then pour vinegar over the baking soda. Always keep several clean rags close by to clean up any runs. This will generally cause a fizzing so wait until it stops and wipe up the vinegar and chunks of food. Repeat until all food is gone.
I think some people warm the vinegar a little but I have never tried that.
I hope someones method helps you so you can continue to enjoy your nice stove.

August 21, 2020
0

found this helpful
I'm still trying ...getting better... Learned a lesson...don't turn your back on boiling pepper jelly

November 1, 2021
0

found this helpful
Your first sentence describes why you should not be responding to this question. You don't have any experience with burned on sugar.
But thanks for wanting to help.

Jess
Silver Post Medal for All Time! 267 Posts
November 1, 2021
0

found this helpful
I would recommend trying a Mr. Clean Magic Eraser or another type of melamine sponge. I've had good luck with it on my own glass topped stove. If that doesn't work, maybe isopropyl alcohol to break up the burned and sticky mess.
Good luck!

December 26, 2016
0

found this helpful
Best Answer
We bought a used smooth top stove that had several spots on top around the "burners" to the point that I thought the finish had worn off. I started dripping peroxide on the marks, sprinkled baking soda on that, then lemon essential oil. Let it set (several hours). Then misted with a vinegar spray and let sit again.
Then worked the marks with a nylon scrubbie in small circular motions. It all hasn't come up yet, but more and more comes off each time I do it.
I don't know exactly what composes these marks,but I do hope this 'recipe' helps you out!

Jackie H.
Silver Post Medal for All Time! 355 Posts
December 27, 2016
0

found this helpful
I also have had a glass top stove for years now. I use Soft Scrub on my stove for any burned on particles and some have been very tough, but the soft scrub works.
I have scrubbed it, and then left it on there until the next day, keeping it moist with water. And it comes right off! Good luck.

January 11, 2017
2

found this helpful
Best Answer
This worked for me. Spray oven cleaner on the spots. Cover the spots with pot tops to avoid any fumes. I use glass tops so I can see when the burner turns red. Light each burner until it turns red, leave burner on for only five seconds. Let it cool down, remove the pot covers and wipe the residue away. This works the same as if you used it inside the over. I've used it with the heat but it may also work without heating the burners. Best of luck.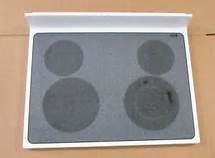 February 19, 2020
0

found this helpful
I tried all the other methods with no success. But heating the burner and using oven cleaner/covering with a lid worked!!! So happy, theres no pitting or scratches. This method is definitely good for that really baked on stuff

December 23, 2016
0

found this helpful
I have tried it all. This burnt sugar is like fused ! to the burner. I am now trying "The Works". still nothng.
Thank you for all of your suggestions, but it looks like a new stove in the near future,.

Lewissan
Bronze Feedback Medal for All Time! 141 Feedbacks
December 25, 2016
0

found this helpful
That's horrible, did you try a razor scraper?