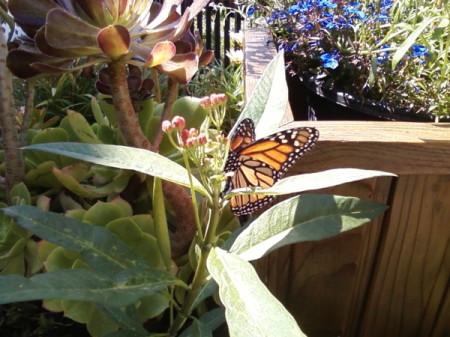 Photo Description
This Monarch butterfly was in our very small yard, where she was laying her eggs, on the plant she landed on. She would fly around, come back, lay her eggs, then fly around again and again. She came back for about a week or so to lay her eggs. Then a marvelous thing happened, her babies hatched and ate all of the leaves off the plant. That plant being a tough plant lived and she came back after the leaves grew back and the cycle continued, as she laid more eggs. They hatched and the babies ate all the leaves. Once again, the plant survived and grew its leaves, but we never saw her again. As it got colder, we figured she moved to Mexico for the winter, but we do hope to see her again someday soon!
Photo Location
My very small front yard, in sunny, San Diego, California, zone 10.
Add your voice! Click below to comment. ThriftyFun is powered by your wisdom!
May 1, 2013
0

found this helpful
It's likely that it was a different Monarch that laid the next batches of eggs as each generation only lives a few weeks, except the last generation of the year will make the journey to Mexico and become the first to lay eggs in the spring. They will die and then their children will move further north laying eggs until the fourth generation flies back to Mexico the next fall.
If you interested in more information here is a website that is working on Monarch conservation:
http://monarchwatch.org/
May 1, 2013
0

found this helpful
P.S. the plant is Tropical Milkweed. Milkweeds are the only species of plants that Monarch caterpillars eat.
May 10, 2013
0

found this helpful
Thank you for the information. Yes, these Butterfly Bushes commonly known, also known as milk weed and Asclepias, come in a variety of colors. It is possible that it could have been the same butterfly, as that plant grows fast and it would have been in that time line for it to come back. Today we had another butterfly visit the plant. Strange that plant had produced another plant and I did not see any seeds drop. The seeds must have been very small.
I did tell my husband not to hurt those babies of the Monarch Butterflies, as I know that their numbers have declined. I want them for future generations to enjoy, as much as I do! Thank you so much for the website, so people can learn about the Monarch Butterflies, and maybe they too will attract them to their yards and encourage them to reproduce, to ensure a brighter future for our beautiful Monarch Butterfly neighbors! They are so beautiful to watch, as they grow from an egg to adult and fly about!
Add your voice! Click below to comment. ThriftyFun is powered by your wisdom!