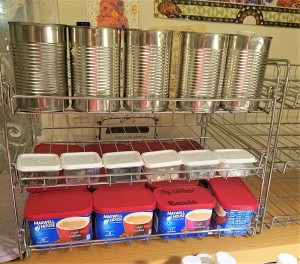 My daughter went another way with her pantry recently, and gave me three of these. I hoped they would have worked in my pantry but when one door closes...
They are super easy to assemble and fit on my upper shelf in my craft room. My neighbor buys at least 4 of these coffee containers a month, and then gives the containers to me. I am going to make a paper cover of what is inside soon, but wanted to show you the potential.
Other containers will fit on these, so here are a few to get your creative juices flowing! Tin cans are of course, free.
The little containers are 10/1.00 at the dollar tree. I love them because (while I don't recommend you put them upside down here), you can put them in craft drawers. That allows you to see what is inside rather than write it on the lid.
So there you have it. Another use for something we already have or might get in the future.