Candle Burning Tips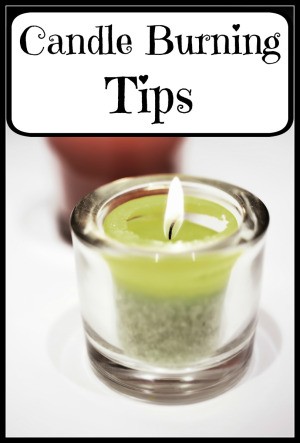 Here are some tips for getting the most out of your candles and candle holders without a lot of fuss:
Always cut the wick of the candle to 1/8 of an inch before lighting and allow the candle to burn long enough so that the hot wax extends to touch the candleholder on all sides. This will ensure that the candle burns down evenly which will maximize the length of time your candle will burn. Cut the wick every time you light your candle.
Keep your candle away from drafts. Drafty areas will cause the wick to dance back and forth. Smoke will then emit from the wick and could cause soot stains on your candle holders.
Always make sure you use the appropriate sized candle for the holder. Never, for example, burn a votive candle in a tea light holder. This can cause glass or crystal holders to break from excess heat.
Do not ever use anything that wasn't meant to be a candleholder to burn a candle in/on. Again, this could cause breakage or even explosion.
Burn candles down as much as possible to eliminate the need to rid your candleholders of excess melted wax.
Remember that the longer you let melted candles sit in a holder, the more difficult it will be to remove the wax.

Save yourself the trouble by taking care of the problem straight away. As soon as you notice that the candle has burned down to a point that you won't burn it anymore, snuff the wick and allow the wax to become solid.

Place the holder in the freezer. Placing the cup/holder upside down is ideal.

After about 10-15 minutes you should be able to take the holder out, give the holder a little smack on the bottom with the palm of your hand and the candle should pop right out.

If it does not pop out and/or if you have waited a while before trying to take the wax out of your holder, take a wax scraper or a butter knife and begin to cut into the candle in a straight line. Before you have gotten halfway down, the candle should pop right out.

* Those rubbery washable butter knives they sell at the supermarket are ideal to use to protect your holder from nicks and scratches.

In order to maximize your candles and protect your property you should always read the labels! Burning a pillar candle is very different from burning a candle that is contained in a glass jar.
Also remember to keep candles out of the reach of pets and children. Wax isn't easily removed from some surfaces and fires that could result from misuse can be disastrous!
Good luck and happy burning!
Comments
Read More

Comments
Published by ThriftyFun.
© 1997-2022 by Cumuli, Inc. All Rights Reserved.
https://www.thriftyfun.com/Candle-Burning-Tips.html