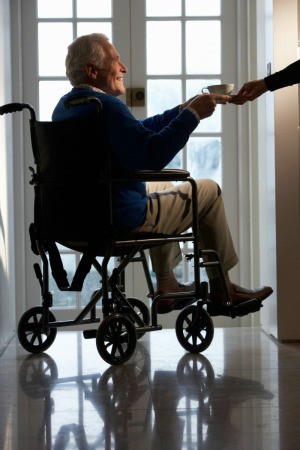 If you are or are caring for an incontinent adult using either cloth diapers or paper diapers, prevention of chafing is important. Diaper creams are expensive and hard to apply and talcum powder is not advisable due to problems with breathing it.
Make your own medicinal powder with cornstarch and zinc oxide powder. It will keep the skin dry and the zinc oxide is also a great fungicide, lowering odor. For a woman, add a cotton ball moistened with a favorite essential oil, shake the powder and store in any wide mouthed container. For a man, leave scentless or use a cotton ball with lime scent or his favorite aftershave or cologne, though the latter will have to be replaced more frequently because it is "weaker" than oil. This powder is also good for summer use when chafing from heat is a problem.
Finally, instead of using hands or a regular powder puff, use a new unused Swiffer duster as the "puff". The handle makes it easier for impaired people to reach the necessary areas and the dusting pad holds the powder so that less falls off until patted on the skin. You can also cut slits in a cheap wash cloth and slide the handle prongs in to make an easy to use cleaning wipe that will save money over baby wipes.
By Saylorscreek from Tyro, NC
Read More

Comments

My mom has Alzheimer's and is incontinent. She gets bleeding sores on her cheek area. She wears a Depend pull up and a Poise pad. I change and clean her about every 4 hours. However, I can't win, as soon as one sore heals another breaks out.
By geri from Fort Worth, TX
Answers

December 30, 2009
0

found this helpful
Best Answer
You might want to perhaps use a zinc oxide type of cream or a incontinence cream for bed sores between changing. It will help protect her skin.
It is a little more of a mess to clean up each time but helps the skin not to break down as much.

December 30, 2009
0

found this helpful
Best Answer
Powder Alum will also help heal sores. Mix with water, 1/2 teaspoon of alum in a pint of water. Apply with a wash cloth several times a day, get it in drug store, if the don't have it ask them to order it, 3 oz cost about $4.00, last a long time, good luck.

December 31, 2009
0

found this helpful
Best Answer
I think that its really important to have the area really clean before you put on any ointments or salves. The salves can hold in the acids and germs from the urine that has soaked into the skin. Can your mom sit in a tub? When my children were small I would let them soak in a baking soda bath under a watchful eye for 15 to 30 minutes.
Then I would make sure the irritated area was really dry--air dried or dried with a Blow dryer on low. You don't want to abrade the irritated area by rubbing it dry with a towel. Then put on the ointment of your choice. Best wishes and good luck

December 31, 2009
0

found this helpful
Best Answer
Sitting in urine for possibly 4 hours at a time is not good. She may also have a yeast infection from the moisture. I would get rid of the pull-ups and Poise pads and move directly to adult diapers. It's only a matter of time anyway, and will make your job easier.
My Mother had Alzheimer's for 10 years, bedridden for about 8 years. We put her on the toilet every couple of hours which cut down on the need for diaper changing, during the day. (Is your Mother eating or drinking something that is making her urine very acidic? Orange juice, other citrus fruits?) Give her yogurt daily to help with that. I would suggest that you check her diaper more frequently, say, every other hour to get the sores under control. Her skin needs to be kept dry.
Try medicated powder once the sores are healed.
If she is sitting upright a lot, get her a donut to sit on (find in a medical supply store). If she is bedridden, you'll need to give her skin even more care to prevent pressure sores (bed sores). Once they start, they are difficult to heal and can get very bad, going right to the bone. Frequent turning, gentle massage, range of motion movements/exercises, a healthy variety of fresh foods, vitamins and supplements, etc. will help keep them at bay. Find a geriatric specialist in your area (check local hospital or Alzheimer's Association for referrals). Good luck to you, I know it's not easy. "An ounce of prevention is worth a pound of cure."

December 31, 2009
0

found this helpful
Best Answer
First, bathe her diaper area each time you change her,with soap, like Ivory or Dial,which is good to fight germs. Then pat dry and apply peroxide and pat on for several minutes. They dry with a blow dryer set on warm. After the skin is thoroughly dry, apply a Monistat type cream-you can ask for it at Dollar General, it is much cheaper to buy the Dollar General store brand,called MICONAZOLE. This fights the yeast which will try to grow in any cracks in the skin, fed by the sugar found naturally in urine.Do not use vagisil, it contains nothing to kill yeast.
After you have the sores healed up, continue to sponge bathe with soap and dry her each and every time you change her, same as you would a baby.
But please don't play around with this. My other wise healthy father died from a bedsore which developed after he wrenched his knee and was put in a "rehab" facility to learn how to walk with a knee brace. He never walked again, had a bedsore within three weeks, and within three months was dead from the bedsore which spread bacteria to his bones.
I also recommended the monistat to a neighbor whose 90+ mother suffered pitifully from urine on her skin,and within a couple of weeks, the neighbor was thanking me with tears in her eyes for the relief she was able to give her mother.
Bless you.

January 1, 2010
0

found this helpful
Best Answer
You might want to use a product that is called Butt Paste. You should be able to get it in any drug store. This is what the hospital used on my Mom. She had the same problem. It is a product that is used for babies, but works just as well for adults. Good Luck and God Bless.

Maryeileen
Bronze Request Medal for All Time! 59 Requests
January 1, 2010
0

found this helpful
Best Answer
We were told to use Hibiclens (we bought it at Walgreens) to cleanse the area when my husband had MRSA, and it worked great. This may help with her bedsores.
Answer

this Question

I would like to see if someone can please give me some feedback. I have a disabled brother who I've been taking care for since 13 years of age. I never got custody of him because I never knew about it when I was younger. My mom passed away and she told me to look after him. Lately my brother is having behavorial problems which are just getting worse and my dad does not help me.
My dad is his legal guardian, but I refuse to give my dad the right to take my brother. My dad is very inresponsible and is in denial. He won't take my brother to his appointments or give him the medication at the time indicated. My brother is 37 years old, but has the mentality of a 6 year old. I've been trying to put him in a day program, but the state I live in has a waiting list for a waiver.
My sister and I don't work because we were told by his doctor that my brother can't be left alone. I don't drive so she has to take me to all his appointments. We are surviving on what my brother gets from SSI and we barely make it with all the copayments and appointments we have. I would like to know if I can take my dad to court to get legal custody and maybe try to get some child support or some type of financial help. Thanks for your time.
Answers

DCA
Bronze Answer Medal for All Time! 220 Answers
July 1, 2015
0

found this helpful
Best Answer
The Legal Aid Society in your state that will provide assistance in obtaining legal custody for your brother. There is no fee for services. You can call or check online for your local office and an appointment.
From your description of your brother, he should be living in a state living facility, not at home. Have you applied to this type of facility for him? Of course, if he is able to live in a state facility, you and your sister will lose all benefits that have been paid to you for his care. Is this why you are providing his care at home?
If you and your sister have been providing all of his care, it appears you have severely limited your lives to care for him.

July 1, 2015
0

found this helpful
Best Answer
I do think you can get guardianship under these circumstances. It shouldn't be hard to prove you are responsible for your brother's care. You will need legal counsel.
I also think looking into a group home is a good idea. Your brother is severely disabled and could use the help of professionals. You must be spending all your time caring for him. Social Services should be able to hook you up with people who can review his situation and see if he can be placed.

July 3, 2015
0

found this helpful
Best Answer
It seems that you leave several questions unanswered but it does appear that you need to have someone in a more professional capacity to answer your questions and help make decisions that are the most beneficial for your brother - not what is best for you or your sister or your dad.
Not sure what you mean by refusing to give your dad the right to take your brother. It would appear that if he is the guardian then he should legally have that right - without your permission.
It is also difficult to understand why it takes you and your sister - full time - to take care of your brother. Are you sure that you are not using your brother as an excuse? It does appear that at least ONE of you could have a job?
I do know that you are probably receiving more help/assistance than mentioned because it would be very difficult to support 3 people (housing, food, utilities, clothing, and other necessities) on just what you mention.
I believe most people would agree that your brother probably needs a lot more than he is receiving if he is not in some kind of program. I would be the first to agree that loving care is very important but some sort of daily program (maybe even a special home) would make a world of difference in your brothers life.
I know (from experience) that "people" outside the real situation cannot make decisions like this so please seek outside professional help.
It seems that Dinah has many good points and suggestions so please take her advice and do it as soon as you can.
Don't you and your sister want some kind of life that is not tied to the everyday (24/7) care of your brother?
With the condition you describe - your brother may be able to live for many, many years - so it would seem that you would want him and yourself to make the very most of those years.
Try to think about everyone involved and look for the best solution - mainly one that will put your brother's health and welfare first.
Answer

this Question