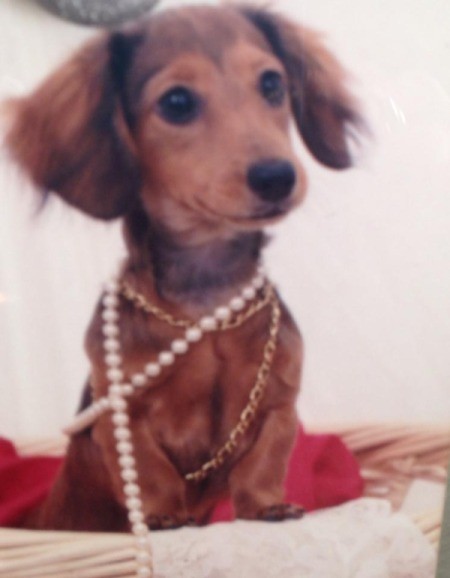 Your Pet's Age
She was 17 1/2 when she crossed the rainbow bridge in August 2016.
Your Pet's Breed
Long hair, mini Dachshund
How and when did you get your pet?
I saw this tiny girlie sitting in her water dish in a pet store window in 1999. Please don't judge me because at that time I had no idea of puppy mills (my fur son is a rescue and we actively support rescue causes). All I knew was pure and absolute love at first sight. It took 2 months, but on June 30, 1999 my fur daughter came home with me.
What does your pet like to do for fun?
Carmel loved her duck toys. She had several including her first toy, Duck, followed by Fluffy Duck, and Yucky Duck. Her friend, Patches, came to visit one evening. When Patches wasn't feeling well, my sweet girl went to her toy box and lined her ducks up in a row as an offering to Patches. Patches's mom and I still talk about Carmel putting her ducks in a row to help cheer up her friend.
Do you have anything else to share about your pet?
I never had human children, so Carmel was my world and my first born fur child. I was a helicopter mom to the nth degree. She was so beautiful and we were in need of extra money at the time so I entered her in a pet beauty contest. The picture here was her girlie girl photo and entry to the contest. The cash prize was to go into our "buy a house fund".
She clearly was the most beautiful of all of the contestants, but a turtle won because it turned out to be a paid popularity contest and I couldn't afford to buy her votes. I was devastated. Carmel took it all in her usual happy go lucky way.
In her memory, I lost my Carmel in August 2016, and in honor of her birthday, February 24, I am entering her in this contest. Hopefully she will win and have the much earned (albeit posthumous) glory of not only being the most beautiful pup, but the most loved fur girl in my world!
We love and miss you Carmel Marmel! May you always enjoy your eternal sunspot baby!
Add your voice! Click below to comment. ThriftyFun is powered by your wisdom!
January 7, 2018
2

found this helpful
Thanks for your vote for my girlie!
January 7, 2018
1

found this helpful
Carmel Ann's story is so sweet. I'm glad you were smitten and gave her a happy life. Our dogs come to us in many ways so don't apologize for how you two found each other.
January 7, 2018
1

found this helpful
Thank you! You are very kind! She was the most amazing dog! I miss her every day!
January 7, 2018
1

found this helpful
A very touching story about Carmel Ann. She left you with precious memories and I hope she wins this contest for you.
January 8, 2018
1

found this helpful
Thank you! Your comment is very kind! She really did touch my heart and soul!
January 10, 2018
1

found this helpful
It's always hard to lose a dear family pet. And she looked like such a love! I'm approaching the final years with my Chow Chow, Honey and dreading it. She has grown up with my boys and I don't know what we will do without her.
Since your dear fur baby has passed on, I'm changing the title of your post to "In Memory of Carmel Ann".
January 11, 2018
1

found this helpful
So sad to hear your sweet fur child is in her golden years. It is so hard to watch them age. Will send up lots of prayers and wishes that she ages gently and sweetly like my girl did. She was loving until her final breath. Thanks for updating my title. I find such joy in my memories and her photos. Give your girl an extra ear rub from me.
January 12, 2018
1

found this helpful
Thanks for the kind words. I surely will do that. :)
February 20, 2018
1

found this helpful
Carmel's upcoming birthday... Feb 24...always makes me sad; however, I really try to focus on all of my happy memories!
She is greatly missed and will always be loved!!!!
April 9, 2018
3

found this helpful
Very beautiful tribute to your baby. I, too, have no human children and got my 4-5 year old Chihuahua mix (rescued from the street) 4 years ago. I cannot imagine my life without him. I've heard it said that the best way to honor a pup that's passed is to rescue another one. Easier said than done, I know. My heart aches for you the way only a fellow animal lover's heart can. I hope you are comforted knowing what a wonderful life you gave her.
April 9, 2018
1

found this helpful
What a wonderful, bittersweet post. Animals are not with us nearly long enough! You are so blessed that you found each other. Nothing replaces them in our hearts, ever, but a new pet eventually brings new love and adventure, and the pet that has crossed over the bridge watches and smiles, knowing we'll all meet again some day.
April 9, 2018
0

found this helpful
sorry for your loss. we just lost our 14 yr old mlti-poo
April 16, 2018
0

found this helpful
Oh, how adorable she was, such a cute face! And that was a precious picture.
Add your voice! Click below to comment. ThriftyFun is powered by your wisdom!