My cat has peed on both my bed and my parent's bed four times in the last three weeks. They are telling me that they are going to get rid of her.

Rain from Ventura, California
Answers:
Cat Peeing on Bed
I had an issue with my cat peeing on my bed as well, it had NOTHING to do with the litter being dirty.
I switched to an automatic litterbox, and it was always clean, she still would pee on my bed once a week or so. I used the same litter, etc.
I finally cleaned it "properly" with the Nature's Miracle cleaner, and then added cat nip to the litter box, she IMMEDIATELY took to the litter box, and started using it again, without issues. So every time I change the litter, or just feel like it looks a bit low, I'll throw a bit more cat nip in, it's only a couple dollars for a big container too.
DONT waste your money on Cat Attract litter, just add cat nip, it does the same thing, and you'll notice an immediate difference.
I also moved the food and water to the other side of my apartment away from the cat litter... although that didn't seem to bother her the first 5 years, you never know... (02/12/2007)

By Ryan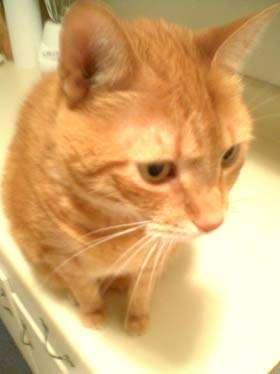 Cat Peeing on Bed
I have a very large cat family (twelve spayed/ neutered, and vaccinated angels) plus one dog. One of my cats, (whom I was brought by a child on the day he and his brother were born along with their momma,) pees on my bed.
I took him to the vet, who did numerous tests and determined that it is not a physical problem. I added a couple more litter boxes, and I cleaned all of them morning and evening. The vet gave me instructions of how to "re-teach" him to use his litter box. It didn't work.
After this she (my vet) could determine that his problem was strictly behavioural. He was teed-off at me!
She gave me valium to give him twice daily, to take the "edge" off him. (Listening to his heart, she said he was the most highly stressed cat she has ever seen. I don't know why, he doesn't have a job! But, even as a tiny baby, he screamed if I picked him up as if I were hurting him. His brother couldn't have cared less.)
Thinking back, I can see that he was upset by a major home-relocation. I had also realized that he was nursing way to long. I mentioned to the vet that he was still nursing at 7 months, and she told me his momma should have stopped him at 7 weeks! She told me to interfere and put a stop to it as it was hard on his momma to keep nursing him.
So, we moved and I made him stop nursing... obviously serious crimes in his eyes. (As an aside, he loves the other cats and the dog, so that wasn't the problem.) Then the straw that broke the camel's back was my brother coming over to visit with his two loud (and as far as my stressed cat was concerned, very scary) little girls. Kitty was horrified, and I was punished by his peeing on the bed.
This went on for months. I went out of my way to pay extra attention to him, and apologized many times each day for being a bad bad Jan. With this, along with the effects of the valium, I was forgiven and he quit peeing on the bed.
(I used gallons of Nature's Miracle and Petzyme to eliminate any hint of urine scent that might incite him to repeat his offenses. The heavy vinyl for the bed purchased from Wal Mart's fabric department was SO worth the $25. Waterproof fabric that must be put in the dryer after washing to keep its waterproofness was invaluable as a couch and chair cover. Six hospital pee pads found at Value Village were also worth their weight in gold spread out on the bed after making it each morning. They are easy to wash, and don't allow the pee to seep through.)
That was two years ago. I was able to wean him off his valium after six months. Remember, it is one of the only ways they have to communicate unhappiness or distress to you. Good luck!
Janet (03/10/2007)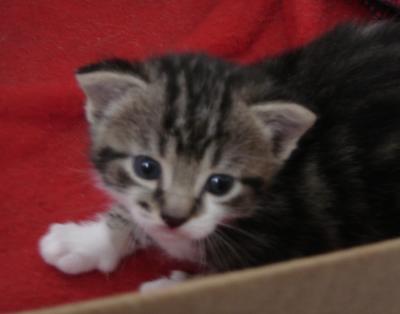 Cat Peeing on Bed
Another thing you might try is regularly feeding kitty his/ her favourite treats on your bed. Cats don't like to eliminate where they eat. (03/12/2007)

By MotherOfTwelveCats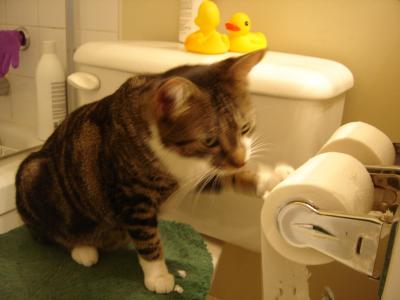 Cat Peeing on Bed
I use a plastic shower curtain with a washable blanket on top to protect our bed. (03/17/2007)

By jacie