I have recently added a 6 month old kitty to my household of pets. The dog and older cat get along well with the new addition. They all sleep, play and eat together without any qualms. The problem is with TaLouse. He pees in the middle of the beds and sometimes on laundry - mostly beds. He has his own litter box separate from Tucker, the older cat. I have come to the realization that he does not like a dirty litter box and keep his scooped regularly. Anyone have any ideas? Are there odors that can be sprayed to keep him off the bed? I dare not tell my husband.
Talouse is a gorgeous cat and I just can't part with him but need some advice on what to do. Is lemon or vinegar a good deterrent?
Thanks to anyone with ideas.
Nelwyn from Bunkie
Answers:
Cat Peeing on Bed
I have used newspaper to keep a cat off of things like a couch that I don't want them to get onto. Just spread newspaper all over the bed or couch, etc. Maybe this would work for you. Is he neutered? Sometimes that also makes a difference. (02/04/2008)

By Irene
Cat Peeing on Bed
My cat pees on my bed and my new trick is that I bought 2 of those plastic floor runners and laid them on my bed with the poky sides up. It does not hurt them, but its not comfortable either. Then at night, I take them off and kitty can sleep with me. (03/22/2008)

By catwoman
Cat Peeing on Bed
I've read a book all about cats which mentioned the problem of beds being used as a toilet, sometimes with the cat's owners in bed. I think no one has said this, but it is most likely due to stress, if it's not a urinary infection.
Try looking for pheromone kits or something. My cat went a bit mental a while ago (running all over the place, enormous pupils and quite hostile) so she went to the vet and we came home with a bottle of these hormone things that you plug into the wall. I live in the UK though, so I don't know what the American equivalent is. (05/25/2008)

By Tricky
Cat Peeing on Bed
About a week ago, the door to the room where we keep the litter box was accidentally closed and our 9 month old male cat proceeded to pee on our bed with us in it. This was the first time he ever went outside his box and I thought that washing the comforter was enough. Apparently I was wrong. The next night we found ourselves being peed on again. I traded out our comforter for the one in the spare room and again it happened.
Zippy was scheduled to be fixed a day later and I discussed the problem with our vet. I was told that the smell of the urine must have permeated the mattress, even though we couldn't smell it, even by pressing our noses right up to the spot. The vet sold me a product called "OUTRIGHT Stain and Odor Remover" and the results are amazing! All you do is squirt the product directly on the spot, saturating it, and in minutes the smell is gone. We have been 3 nights free of "accidents" on the bed and I now swear by this stuff. The whole bottle (16oz.) was under $10 but can only be purchased at a vet's office. I highly suggest it to anyone who needs to remove any new or old cat urine smells! Zippy is now neutered and seems to have no interest in turning our bed into a litter box! (06/27/2008)
By Nealie
Cat Peeing on Bed
Well, I thought I had solved the "peeing problem" with Zippy but was disappointed to have him pee on us again 4 nights ago! I was sure it was the presence of a smell so minute that we couldn't detect it but I had exchanged all the bedding in the spare room for the bedding in our room. After stripping the bed once again at 1am, I was completely perplexed as to what I could do to keep Zippy from peeing on us.

My husband was ready to find him a new home, not that I could blame him. I was just as frustrated, but I have fallen in love with this cat and couldn't see ever giving him up. I had never given away a pet and was determined to find a way to keep him. Closing him out of the room wasn't an option due to fact that I have 2 large dogs that aren't "cat friendly" and would never leave them alone together overnight.
After racking my brain for hours I came up with a possible remedy. Zippy has a "blankie" that he sleeps on next to me in bed and I had always heard that cats won't pee where they sleep. I took his original "blankie" and laid it on top of our comforter (in the dreaded spot where he seems to pee each night).

Initially he just smelled the blankie and laid down. It's now been 3 nights with his "blankie" on top of our comforter and no accidents! I'm keeping my fingers crossed that we've found the solution. This may not work with every cat, but when you're desperate, you'll try anything.
(07/10/2008)

By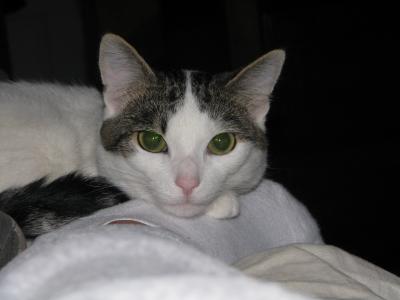 Cat Peeing on Bed
We have six cats and one felt it necessary to wet on our bed. We make sure to clean the cat boxes several times a day. We tried everything to figure out why one of our cats felt it was necessary to pee on our bed and never did. Just keep the litter boxes clean and pray for the best. All of a sudden the peeing cat stopped. Cats are a mystery but worth all of the effort. (01/29/2008)
By S. Grimes