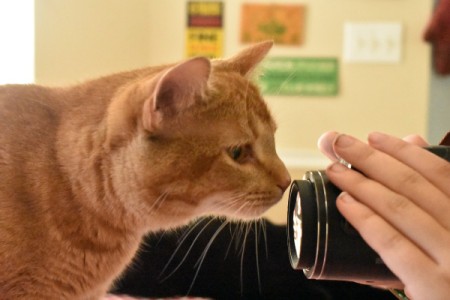 Photo Description
The whiskered companion you see as the subject of this photo is a cat named Fish. Now, Fish is not commonly known for being a mischievous cat. Sure, he has his moments, but for the most part this feline prefers to spend his days lounging on a couch, lightly swishing a paw at the treat that's just the slightest bit too far away, too lazy to get up and grab it for himself. However, despite his lack of mischief Fish can still muster up a good bit of curiosity for the world around him.
In this particular picture, he's demonstrating this side of his personality quite well - inspecting the camera which invades his personal space and pondering over what exactly this contraption must be. His owner is the one holding the camera, leading him to believe that this thing MUST be something good, and so he takes a sniff. Fish soon after discovered that this odd object was not food and decided to take no further interest in it, splaying out upon the kitchen table in annoyance. The cat never realized that this spark of curiosity would be forever captured within a camera's eye.
Photo Location
Huntsville, Alabama
Add your voice! Click below to comment. ThriftyFun is powered by your wisdom!