My 6 year old German Shepherd, Cherokee, died this morning. He was fine when I let him out to use the bathroom. When he came in he seemed fine. About 15 mins. later he was making a moaning sound and white foam was coming out of his mouth. He died immediately. What could have caused this?
Answers
February 9, 2018
0

found this helpful
Best Answer
This almost sounds like the dog was poisoned. Can you go and look around your yard and see if anyone threw something in there that the dog could have eaten. Normally, if an animal has ingested poison this will be the immediate reaction. One of my dog's was poisoned and it was so quick there was nothing I could do about it. He was fine one minute and playing in the river and not long after this he started to foam at the mouth and was dead. He wasn't sick before this.
February 11, 2018
0

found this helpful
Best Answer
Dogs are attracted to the sweetness of ethylene glycol (in auto antifreeze), which is very toxic. I do not know how fast it acts, though. Perhaps someone had a coolant leak or drained their antifreeze to replace it and your dog drank it.
February 12, 2018
0

found this helpful
Best Answer
Or could it have been a seizure? Sometimes when an animal gets hit on the head, or if the animal falls off of something, it can hit it's head so hard, this can cause that to happen too.
I saw that happen once, my mom came over to visit me when I was in my 20's. She had her little Terrier dog with her, and my roommate had a cat. My mom's dog went nuts when he saw the cat, and the cat jumped up on the table, and so did her dog. When the cat leaped off the table, so did her dog, but her dog
landed on the hard tile floor on his chin, which was devastating, and that caused the foaming and there wasn't anything the veterinary hospital could do.
I'm so sorry for your loss. Take care.
Answer

this Question

...
My Shih-tzu of 8 yrs, one morning sounded like she was gagging or ready to vomit. I suspected she was going to vomit, because she made that choking sound when she did. She was on my bed when I heard her and told her to go outside. I followed her to the door and there she collapsed.
I lifted her up and she had her tongue out, so I started to give her CPR, and then she peed maybe less than a minute later. I don't know what happened to her. Has anyone had the same experience? Do you think she had a heart attack? I miss her so much. xoxx
Debbie from Alberta, Canada
Answers
November 16, 2008
0

found this helpful
Best Answer
So sorry to hear of your loss; it makes it even worse when you don't understand what happened. The same thing happened to me several years ago; I was awakened one morning by the sound of my 2 year old Maltese retching at the foot of the bed. She threw up and collapsed. I located a 24 hour vet and rushed her there; all this time she was totally unresponsive. The vet did all he could for her, (her tongue was hanging out too, by this time), but she died. I could not figure out for the life of me what made her collapse, so when the vet asked if I wanted her autopsied, I agreed, if nothing else but to find out what happened. Turns out she had a congenital heart defect that caused a heart attack. Her loss was made better by knowing what happened to her; I was consumed by guilt, wondering what I could or should have done. My heart goes out to you for the loss of your pet. God bless. Carole
Answer

this Question

...
I was walking her, and as we are going back to the house, my dog just started shaking and vomiting something white. Then she was shaking for like 15 minutes and then died. I know she didn't eat anything, she was on my leash all the time. What could that be?
Answers
August 24, 2017
0

found this helpful
This is so sad and I am so sorry you lost your dog so suddenly.
Like you said that your dog didn't eat anything so you can rule out poisoning. However, this could be a number of different reason your dog died like they did.
Heart disease
Trauma
Gastrointestinal disease
Neurologic disease
Respiratory diseases
Urinary disease
These are all the causes of sudden death in a dog. It is so hard to say which one actually killed your dog. I would ask your vet to examine the dog and see what he can determine is the cause of death.
August 25, 2017
0

found this helpful
Oh my word, I'm so sorry to hear this. Like Poehere said, it could be a number of things. Poisoning, severe anemia, shock.
August 25, 2017
0

found this helpful
There could be many reasons. The number one reason is an undetected heart issue. However, because your dog vomited, it could be a gastrointestinal parasite or other gastrointestinal issue. I'm not sure if you would want to have an autopsy done. My condolences on the loss of your dog.
August 25, 2017
0

found this helpful
I am so sorry for you.Sounds like the dog had a fatal seizure.I had a dog a few years back that would have seizures, and would foam at the mouth.It was terrible to watch.
August 28, 2017
0

found this helpful
I am sorry to hear about your dog.
It could be anything.. like:
- Cardiac disease
- Gastrointestinal disease
- Unobserved trauma
- Poisoning and infection
More information: http://www.peth udden-death-dogs
August 30, 2017
0

found this helpful
I am so sorry to hear of your loss. I wonder if it may have been heat stroke. But more likely to have been a heart attack as humans have the same symptoms as this when they have a fatal heart attack. It's such a sad time. Best wishes.
August 31, 2017
0

found this helpful
I know this is a sad time for you but you know that she was well cared for, had a good life (however short), and was given lots of love so always try to remember the happy times.
Sudden death in dogs is a well discussed subject but almost all agree; without an autopsy most of the time reasons given will only be an educated guess unless the dog had a history of previous disease/ailment. An autopsy is very expensive and most vets do not recommend it unless it truly indicates malicious poisoning. It is also stated that actual poisoning happens less than 10-20 percent of the time.
Many times sudden death is caused by heart failure, which may be caused by heartworms. If you were administering the worm medicine then it probably wasn't heartworms but a congenital heart defect.
Here is link that gives a lot of information on this type of death.
November 4, 2017
0

found this helpful
A dog that stumbles up on, or is given a speed med or drug will also shake, foam mouth, and make odd noises.
Read More Answers
I had an 11 year old Chihuahua. She was old, but never ill. She was eating well and she was strong. Yesterday however I noticed she was breathing heavily and deeply, very laboured. I took her inside and tried to make her comfortable and calm. Sometimes she would "snort" if she was upset or worked up. I assumed it was something similar. I tried everything, but an hour later her condition had not improved. I then called the emergency vet and was on the phone for about 3 minutes and when I left her on my couch to make the call she was still relatively alright (and alive). As I came back to her she was limp and foaming at the mouth, but still alive. I held her and tried to help, but she gasped for about 2 very long minutes and then she passed on. I considered poisoning, but she was old, not adventurous and picky when it came to food and we keep any poison out of reach of pets. I've also read it may be a seizure, but that doesn't explain the laboured breathing for about an hour and then the sudden death. Her death has really hurt me and I'd like to know what happened and if I could have saved her. Please help.
Answers
June 25, 2018
0

found this helpful
I don't think anyone could determine with absolute certainty what caused your dog's death just by reading a description of her symptoms. I'm sure the possible causes could be narrowed down by a vet or someone who has had the same thing happen with their dog. However, nothing can change the fact that your dog died. The best thing to do is treasure the memories you have of her and find comfort in knowing she was loved and cared for during the time she lived with you. I am sorry for your loss and as someone who has loved and lost (through death) dogs I've shared many years with, I know what a void a pet's death leaves in your heart and home.
June 25, 2018
0

found this helpful
There could be many reasons. I would ask the vet again.
Read More Answers
He was 8 months old, very healthy and a happy dog. I was away for 3 days and when I returned I learned that he had not been eating well for 3 days. I searched for him all over the house and tried to feed him, but he wouldn't eat. It was late at night and no veterinarians were available. The next morning he seemed to be fine.
I have a very hectic schedule for which I hardly stay home. I was away for another two days and this morning I called him out, but he did not come. I went nearer to him and tried feeding him, he did not eat at all. After an hour he started making weird loud sounds similar to barking and then his jaw changed its position. He started taking very deep breaths and finally stopped breathing with his eyes open and tongue sticking out. I'm so guilty I wonder what could the reason be.
Answers
June 15, 2018
0

found this helpful
You have my deepest sympathy on your loss. The loss of a pet is never, ever easy, and even more challenging when it is a young pup. You could talk to your vet to see if he/she has any feedback for you. Every dog is different so it could be anything from an infection like a parvo to a congenital condition with dozens of things in between.
Some times, like in humans, you may not know an exact cause and that just s**ks. Beating yourself up will only make you sad, so I urge you to be kind to yourself.
When you are up to it, I suggest looking for a grief support group for folks like you who lost a beloved pet. Our local animal shelter has one. Your local human funeral home many even know of such a services.
I will send up lots of wishes to help your heart heal from your loss.
June 15, 2018
0

found this helpful
Dogs, like people, often have hidden health issues. Sometimes when symptoms appear it is too late. Please dont feel guilty.
June 18, 2018
0

found this helpful
I am so sorry for your loss. What a sad and difficult thing to go through. Anytime a dog or cat stops eating is is an emergency. They need to see a Vet ASAP. Some things can wait, but not eating cannot. We have all been in a position where we just didn't know what to do. I pray for healing and peace of mind for you.
Answer

this Question

...
My sweet Pug Audrey died yesterday at the age of three and I am so heartbroken. She was so sweet and young I just don't understand why she was taken from me and my 12 year old daughter. When hurricane Matthew came through Florida Audrey showed signs of stress. She was panting and shaking. I comforterd her through the night and she seemed to get better over the next few days. I noticed she wasn't eating as much as usual and thought she would be back to her normal self soon. She was happy and playful as usual.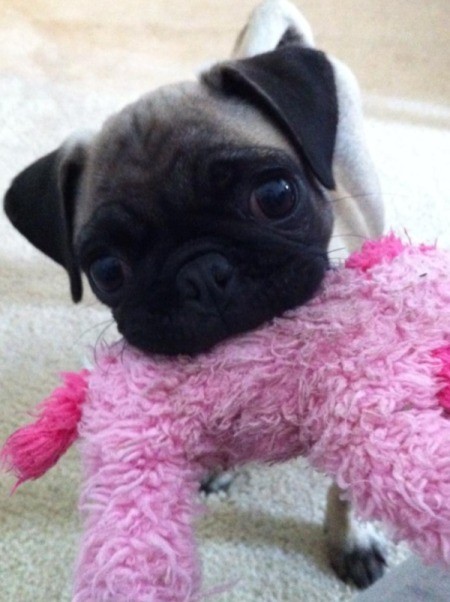 Then one day about a week later she stopped eating completely. The very next day she started vomiting. I fed her soup and water through a syringe. She was keeping the liquids down and I felt confident she was going to be OK. I laid around with her all day to make her feel better. She was emotionally alert just seemed like she had a cold. I noticed she sounded a little congested. Later that evening I noticed her heart racing and she was panting heavily again like when the hurricane came through. But the heart rate was very rapid and I could see it through her chest. It almost looked like she was shaking, but it was her heart beating so fast. I prayed for her to make it through the night. I played some music for anxious dogs and held her like a baby while we slept through the night.
Upon waking I was going to take her to the vet if she wasn't better. She was a wet noodle when we woke up. Her head was flopping from one side to the other. Her eyes looked like they had a blue haze over them and she was devoid of emotion. She looked empty. Her tongue fell out of her mouth. Her legs started running while my daughter was holding her like how dogs run in their sleep. Right after that she died.
We are at such a loss for why she died. It happened so suddenly. I don't know if the hurricane coming through was just a coincidence or what. Prior to all of this she was perfectly happy and healthy as far as I know. Anybody have ideas why she might have died? I am consumed in grief. She was my baby. I didn't work or go out much. We did literally everything together. She helped me through so much and I am in complete shock and disbelief that she is gone forever. Thank you.
Answers
October 21, 2016
0

found this helpful
How often did you have your dog take the heartworm preventative? It sounds like heart failure, which may be caused by heartworms. If you were administering the worm medicine then it probably wasn't heartworms but a congenital heart defect.
That is, a weak right-side heart muscle that gave out suddenly. The stress from the hurricane might have made this happen sooner than it would have, but in the case that it was a defect it would have happened anyway at some time.
It's also possible that she had pneumonia, but in that case she would have been coughing or wheezing and you'd have noticed that.
May 20, 2018
0

found this helpful
Always treat in southern states because heat heartworm etc. Also always have vet check n guaranty health.
Read More Answers