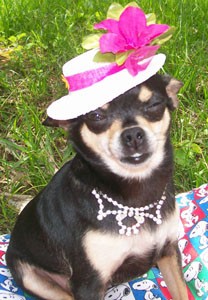 Cha Cha (Chihuahua)
Cha Cha is a 5 year old Chihuahua. I got her about 1 year ago from a family that had to let her go. She likes to go on car trips. She doesn't know she is a dog, she knows she special and gets a lot of attention. She also enjoys modeling for photos.
By Kathy from Palm Coast, FL
Answers:
Cha Cha (Chihuahua)
How absolutely precious. I can tell she enjoys modeling for the camera. Thank you for giving her such a loving and wonderful home.
Racer (02/03/2009)

By
Cha Cha (Chihuahua)
awww she's beautiful! She looks just like my Dezzi! Mine is 6 years old now and diabetic.They are the best dogs in the world,and so smart.Mine too doesn't know she's a dog.I'm glad you took her and gave her a good home. (02/03/2009)

By marisa0407
Cha Cha (Chihuahua)
She is sooooo cute. I love the black and brown coats. (02/03/2009)

By LITTLE SUZY
Cha Cha (Chihuahua)
Is she winking at us? (02/03/2009)

By pigeon toes
Cha Cha (Chihuahua)
I would like to think she is winking at us...LOL I do believe the sun was in her eyes that day. She is the sweetest animal I have ever known, we love her dearly. (02/03/2009)

By NoRulesArt
Cha Cha (Chihuahua)
very cute cute!! (02/04/2009)

By ginai