It's the molasses that gives this recipe it's unique flavor.
Ingredients:
1/4 cup vegetable oil
4 medium onions (about 1 1/4 cups)
1 1/2 lbs. boneless sirloin, cut in 1/2" strips
1/4 tsp. chili powder
1/4 tsp. black pepper
1 tsp. salt
2 tsp. Worcestershire sauce
2 tsp. molasses
2 cloves garlic, chopped
2 red bell peppers, thinly sliced
2 green bell peppers, thinly sliced
4 small Italian, French, or sub rolls, about 6 inches long and split open
1/2 cup shredded mozzarella
1/2 cup shredded provolone cheese
Directions:
In a large nonstick skillet heat oil over med. heat. Saute onions and meat until onions are soft; about 3 minutes. Add chili powder, pepper, salt, Worcestershire, molasses, and garlic and cook for 5 minutes; stirring occasionally. Add red and green peppers and cook 3 more minutes.
Assemble the sandwiches: preheat oven broiler. Fill each roll with 2 cups of meat mixture and sprinkle with 2 Tbsp. mozzarella and 2 of provolone. Place under broiler until cheese melts, 30 seconds to 1 minute.
This is the original recipe. I omit the chili because we don't like it. I've also used ground beef instead of steak because my husband prefers it that way. I use less filling per roll and it gives me 6 to 8 rolls. I've taken these to parties as well; I use the little salad rolls instead. They are always popular with men.
Source: I got this from a magazine article (don't know which) a number of years ago.
By mother of 5 from Nova Scotia
This is a yummy beef sandwich and easy to make. The prep is done early, so it'd be a nice main dish for a party. I was originally concerned that this recipe would be too spicy for the kids, but it actually turned out to be quite mild.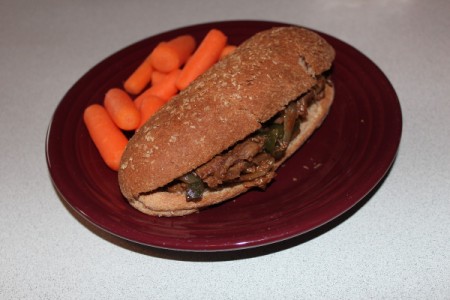 I would recommend that you use the roast called for the in recipe as it is a sturdier meat. I used sliced flat iron steak since it was on sale and the kids wouldn't touch the leftovers because they thought it looked like dog food - lol!
Total Time: 4 hours
Yield: 8
Source: A Decade of Cooking the Costco Way
Ingredients:
1 (3-4) lb boneless beef chuck roast (I used sliced flat iron steak that was on a good sale)
2 tsp ground cumin
2 tsp chipotle chili powder (bulk spice section)
2 Tbsp vegetable oil
1 large onion, sliced
1 poblano pepper, sliced
1 cup spicy thick and chunky salsa
1-2 cup beef stock
salt and pepper, to taste
8 hoagie rolls
8 oz pepper jack cheese, shredded or sliced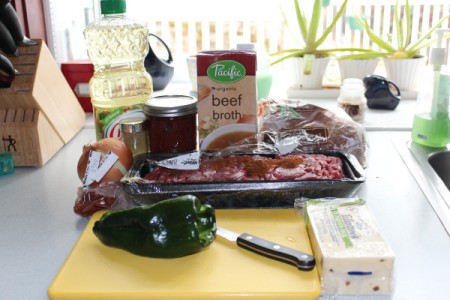 In the northern US, Poblano peppers are sometimes called Pasilla peppers, so they might be under that name at your store (as they were at mine). Poblano peppers are fairly mild. You can use a spicier variety if you want to kick the flavor up a notch or two.
Steps:
Dry the roast with paper towels.
Combine spices. Reserve 1 tsp. of the spice mixture and rub the rest into the roast.
Heat oil in a pot over medium heat. Add roast and sear. Remove roast from pot.
Add onion, poblano, and the reserved spice to the pot; saute' until tender. Remove, let cool, and refrigerate.

Return roast to pot. Add salsa and enough beef stock to cover the roast half way. Bring just to a boil; then reduce heat, cover and simmer gently until fork-tender (about 3 hours).
Remove roast from pot. Add onions and pepper to the liquid in the pot to reheat. Slice roast and season with salt and pepper as desired. (Since the meat I used was pre-sliced, I just added the onions and peppers in with the meat).

Preheat the boiler. Split hoagie buns, top with cheese, and toast briefly under the broiler. Assemble sandwiches with beef, onion, and peppers.
I never measure the ingredients in this delicious recipe, I just "eyeball" everything.
Ingredients
12 thin slices, inside round beef*.
Dijon mustard
Chopped onion
Worcestershire sauce
4 crusty buns
sliced mushrooms
cheddar cheese
butter or margarine
garlic, freshly chopped or powderd, to taste
*I know them as sandwich slices, here in Northern Canada.
Directions
Flatten beef slices, set aside. Combine mustard, finely chopped onion and worcester sauce in a bowl. Mix well, spread enough of the mixture on each beef slice to taste. Roll up and place seamside down on heated skillet, secure with tooth pick if need be. When browned, I use two forks to flip, removing first toothpicks, then replacing picks if meat wants to unroll. These only take a few minutes each side to cook.
While beef is cooking, slice desired amount of fresh mushrooms and cheese. We use a combination of mozza and Canadian cheddar. Set aside. Slice buns and toast. When meat is done, remove from pan and keep warm. Add sliced mushrooms in single layer on heated skillet and add cheese on top of mushrooms. Heat until cheese melts and mushrooms shrink. This mixture will become your cheese sauce. Spread butter mixed with garlic on bottom half of toasted buns, place meat rolls on butter, minus the toothpicks! Spoon cheese and mushroom sauce over meat and top with second half of bun.
Serve with salad and napkins!
By Yvonne from Cold Lake, Alberta