Chick Photos
Photos
Share on ThriftyFunCheck out these photos. Click at right to share your own photo in this guide.
The Boogaboo Bunch are baby Rhode Island Red mix pullets (or chicks). We were at Tractor Supply today and we decided to add to our family. We have eight baby chicks, guaranteed to be pullets and not roosters.
They are in the chick nursery now, how sweet they are. They are happy to be together and warm under their light and they have little fleece blankets like all our pets do. We will have a coop for them when they are ready and we will chronicle their adventures here on ThriftyFun, as I do all our pets! :)
By Robyn Fed from Tri-Cities, TN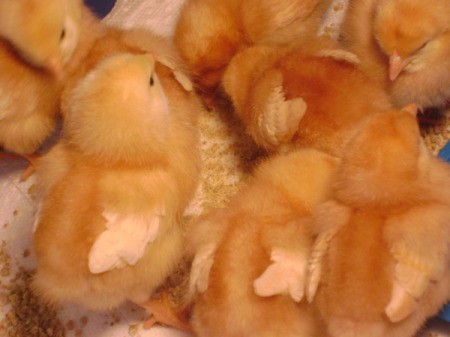 Phoenix is the black legged chick, and Fluffy is the white legged chick. Our pet chicks are very young, they are still in an incubator, a large plastic home on our entertainment center in the bedroom. They are old enough to just be losing the fluffy feathers and getting in regular type feathers, but too young to tell if Phoenix and Fluffy are male or female. They are part silky and another variety, which I forget. They have five toes on their feet instead of four, both of them get this from their mother.
The fifth grade was supposed to hatch about 12 chicks and they each were promised a home after they hatched. The electric went out for a day and only half of them hatched out. I went on freecycle.org for my surrounding area and asked that if any one had two that we would give them homes. We found a couple who are retired and raise and sell birds of all kinds. When they do the fertilize test on the eggs to see if the roosters are doing what they are supposed to do, they hatch "all" the eggs and find homes for them. So adorable and we are lucky to have found them this time of the year. They spend a lot of time cuddled with each other, after eating and drinking nonstop. They love to come out and walk and look around on the bed.
They like to be cuddled softly and talked to. Wen they are not sure where I am they call me and I tell them "Hello babies" and then they go back to sleep, like a child looking to see if it's mom is nearby.
They talk to me at night and during the day. They look at me through their little light area where they live and they let me know they are watching me.They do not like to be separated. They talk back to me when I talk to them and I know what all their soft calls mean. Compared to any other bird I have ever had the joy to be a guardian of, these have the sweetest personalities I have ever seen. We can't wait to make their coop later and watch them have the time of their lives outside. Thanks to the fifth grade science class, we have a new love for chicks and chickens and they have a great love for us. Soon we will have fresh eggs!
By Robyn Fed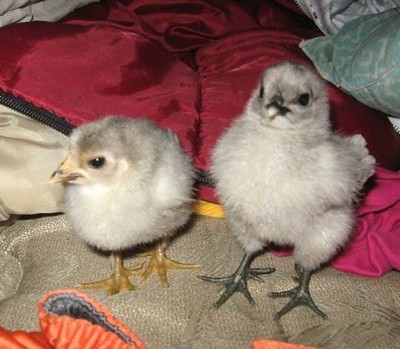 Whitey and Lucky are 3 days old in this picture. They are Rhode Island Red Mix. Imagine the surprise of going to feed the chickens on January 2, 2010 when my grandson yells "babies."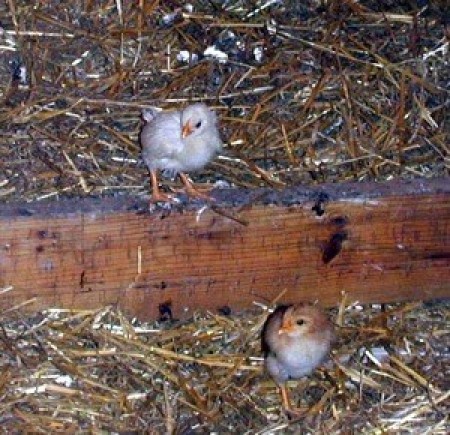 Read More...
Yesterday my husband was cutting down a couple dead trees in the yard with a chainsaw. Our chicks have never heard such a thing and were staying far away and stretching their necks to see what the noise was all about.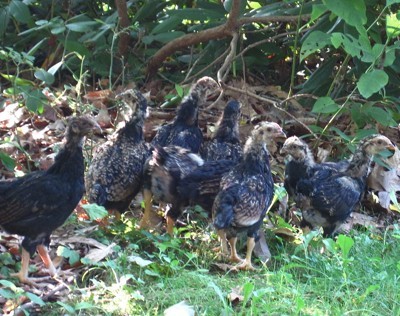 Read More...
May 5, 2010
9

found this helpful
Harriet is a Buff Orpington and the smallest of the chicks we got this spring. This picture was taken the day after she came to live with us.
She's standing in front of the seedling starts. Baby plants and baby chickens. The house is alive with life!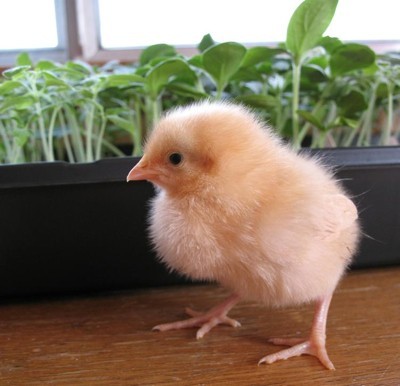 Read More...
These little babies are my daughter's new chickens. We brought them home from the feed supply store. They are Barred Rock chickens. They are so cute. They are the last ones of the season at that store.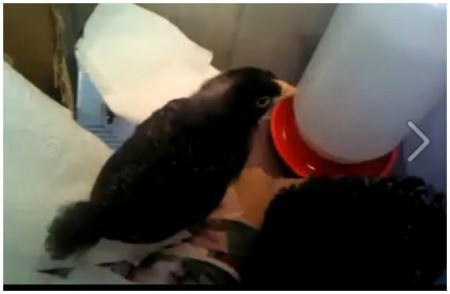 Read More...
I liked this photo. It reminds me of when I used to draw chickens in elementary school, like little S's with beaks. These are the only ones I have ever seen that really look like those drawings.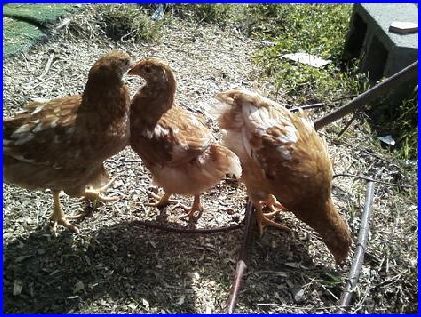 Read More...
When you are a young chick, bathing in the sun becomes a top priority (at least when you are a chicken). I will be posting many more of the Bugaboo Gang taking sunbaths as they are spending more and more time outdoors.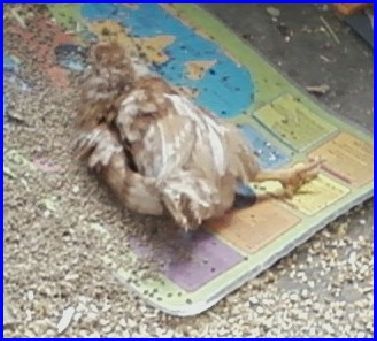 Read More...
We recently bought these 3 girls from a local farm store. Our two other chickens are getting older and we thought we would add to our flock so that we keep getting eggs.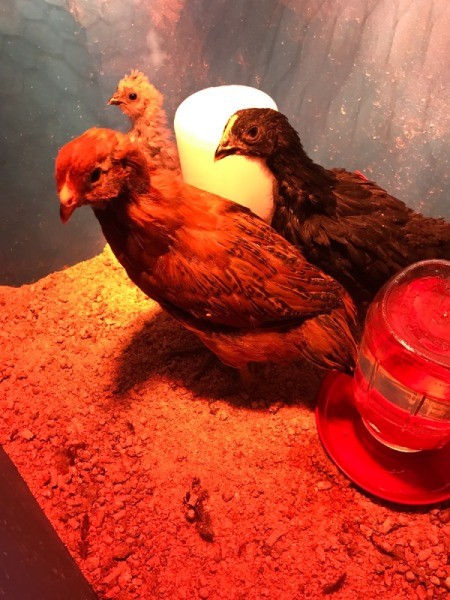 Related Content