Chicken Mozzarella Recipes
Solutions
Share on ThriftyFunThis page contains the following solutions. Have something to add? Please share your solution!

This recipe is a different take on an Italian style chicken dish. I like it because it's so easy to prepare and yet is "fancy" enough for guests.
Ingredients:
1 Tbsp. oil (or Pam)
2 Tbsp. Parmesan cheese
2/3 cup Bisquick
2 tsp. Italian seasoning
1 tsp. paprika
1/4 tsp. black pepper
6 boneless, skinless chicken breasts
2/3 cup bottled chili sauce
3/4 cup mozzarella cheese
Directions:
Brush or spray 9x13 inch casserole dish with oil. Mix next 5 ingredients. Coat the chicken with the mix. Arrange chicken in dish. Bake 45 minutes at 350 degrees F. Spread on sauce and cheese and bake 5 more minutes.
Servings:
6
Time:
10-15 Minutes Preparation Time
50 Minutes Cooking Time
By Sandy from Elon, NC
This is easy to prepare and my family loves it.
Ingredients:
4-6 pieces of boneless chicken breast
4-6 slices of mozzarella cheese (shredded works too)
1 regular size can cream of chicken soup
1/2 soup can of water
bag of seasoned stuffing crumbs
Directions:
Place chicken breast in casserole dish. Size depends on how many breasts you are using. Top each piece with cheese.
Mix soup with water in a separate bowl then pour over chicken covering it completely. Top with stuffing crumbs. I use enough to cover it and give it a nice coating.
Bake in 350 degree F oven for 1 hour.
This is one of my go to meals when I am tired from work and want to get something in the oven fast. Prep time is only about five minutes and you have a delicious meal.
Servings:
4-6
Time:
5 Minutes Preparation Time
60 Minutes Cooking Time
Source: My mom
By Lynne
August 13, 2010
1

found this helpful
You can use chicken breast halves instead of thighs but I just happen to prefer dark meat.
Ingredients:
4 large boneless, skinless chicken thighs
salt and black pepper
16 thin asparagus spears, trimmed
1 cup mozzarella, shredded
1/4 cup Panko crumbs
Directions:
Place 4 spears of asparagus on the center of each chicken thigh and then sprinkle 1/4 cup of mozzarella cheese per thigh over the asparagus. Wrap the chicken around the asparagus and cheese and place, seam sides down, in a baking dish. Evenly sprinkle chicken rolls with Panko crumbs and bake for 25 minutes, or until juices run clear.
By Deeli from Richland, WA
I prefer recipes that are quick and easy to prepare but this one, I will have to say, is not simple, but it is so good! When I make it, I make a lot and freeze the leftovers. They are great to reheat later for an easy meal or lunch at work. They can be quickly reheated in the microwave or served crispy by heating them in the oven.
If you prefer to cook just a few, you will still need 1 egg and 1 cup of milk for the egg wash. Flour and bread crumbs can replace the GF Bisquick and Rice Chex, but I have to have it gluten free.
Source: A recipe I changed to make gluten free.

Ingredients:
12 boneless chicken thighs
oregano, salt and black pepper
sun dried Julienne cut tomatoes in a jar
sliced sandwich ham
sliced Mozzarella cheese
1 egg
1 cup milk
approximately 1 cup Gluten Free Bisquick
approximately 4 cups Gluten Free Rice Chex
olive oil
large tooth picks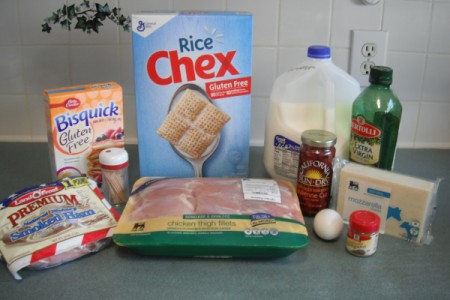 Steps:
Crush the Rice Chex into crumbs.
Drain the sun dried tomatoes.
Using 3 containers, place Bisquick in the 1st one. Whisk milk and egg in 2nd one and put Rice Chex crumbs in 3rd one. Keep them in this order.
Unroll each piece of chicken and flatten by using the edge of saucer or a meat mallet. Sprinkle each piece with salt, pepper and a little Oregano.
Add sun dried tomatoes and a slice of ham then place cheese on one end. Don't overlap the edges of the chicken pieces.
Roll chicken, starting with the cheese end, and secure together with heavy duty toothpicks. Prepare all of them and place on a plate to hold for the next step.
Take one piece of chicken at the time. Roll in the Bisquick. Dip in the egg wash. Roll in the crushed Rice Chex and set it on a plate. Do each piece, adding more Bisquick and Rice Chex to the bowls as needed. Use Bisquick and Rice Chex sparingly.
Fry chicken rolls in hot olive oil (360 F), uncovered, until browned on both sides. Remove and drain on paper towels.
Place chicken in 2 separate two quart Pyrex dishes.
Bake 30-35 minutes at 325 F.
To freeze: After they have cooled, remove the toothpicks and wrap each thigh in plastic wrap. Place them in Ziploc freezer bags and freeze.
To reheat: Remove plastic wrap. Place frozen chicken in a baking pan and set it in a cold oven. Turn oven on and set temperature at 350 F. Bake 20-30 minutes or until hot and crisp. It tastes just like freshly baked.
Place the chicken in an 11x8-inch (2 qt.) shallow baking dish. Stir the soup, Italian seasoning and garlic powder in a small bowl. Spoon the soup mixture over the chicken.
Read More...