May 20, 2010
5

found this helpful
I love this served over a bed of salsa flavored rice ;-)
Ingredients:
3 Tbsp. soy sauce
1 Tbsp. Worcestershire sauce
1/2 tsp. garlic salt
2 boneless skinless chicken thighs, lightly pounded
1/2 cup bell peppers, diced
1/4 cup red onion, chopped
1 "heaping" Tbsp. jalapeno, finely chopped, plus 1 tsp. for garnish
2 tsp. plus 1 Tbsp. extra virgin olive oil
3/4 cup shredded Pepper Jack cheese
Rice
Directions:
Combine the soy sauce, Worcestershire sauce and garlic salt well in a shallow dish; add the chicken, turn chicken to coat and set aside for about 15 minutes.
Drain and discard marinade and cook the chicken in 2 teaspoons of the oil over medium heat for 4 to 5 minutes on each side or until the juices run clear.
Meanwhile, saute the bell peppers, onion and heaping tablespoon of jalapeno in the remaining oil in another skillet until just tender and set aside.
When chicken is done spoon the vegetable mixture over each chicken thigh, sprinkle with cheese, cover and cook until cheese is melted, about 1 to 2 minutes. Place on plates over a bed of rice, garnish with remaining jalapeno and serve.
By Ann from Richland, WA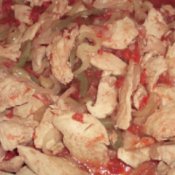 Sweet jalapeno chicken blends sweet and spicy flavors. It is delicious on tortillas or served with rice.
Ingredients:
4 large chicken breasts
1 bell pepper (I used 1/2 green and 1/2 yellow)
2 medium onions
1 can (14.5 oz) diced tomatoes with jalapenos
3 Tbsp. olive oil
2-3 Tbsp jalapeno pepper jelly
1/2 tsp. crushed red peppers
salt
pepper
Directions:
Cut chicken breasts across the grain into thin strips (1/4 inch thick). Set aside.
Thinly slice peppers and onions.
In a large skillet, heat 2 Tbsp olive oil over medium heat. Add onions and peppers, stirring frequently until onions are translucent and soft. Remove and set aside.
Put remaining 1 Tbsp. olive oil in pan and add chicken pieces. Cook chicken over medium heat until slightly brown. Salt and pepper to taste.
Add jalapeno pepper jelly to chicken and stir to coat.
Return cooked onions and peppers to the skillet with chicken. Also add the can of tomatoes. Stir to combine.
Cover and simmer over medium-low until hot throughout.
October 8, 2009
4

found this helpful
Tastes yummy served on a bed of rice that was drizzled with the remaining basting juice from the baking dish. Preheat oven to 400 degrees F.
In a small bowl mix the marmalade, mustard, oil, jalapeños, lime juice and lime zest.
Read More...