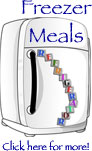 This delicious dinner dish can be baked in a large casserole dish or in two smaller dishes to suit any size family! Either way, try this dish served with sour cream and enjoy an entirely new, rich and creamy dinner treat!
Ingredients:
1 pound ground beef
2 cans of chili (15 ounces each) without beans
1 can (8 ounce) of tomato sauce
1 can (2 1/4 ounce) of sliced and ripe olives, drained
1 can (4 ounces) of chopped green chilies
2 cups (or 8 ounces) of shredded cheddar cheese (can be substituted with taco or Mexican shredded cheese)
1 bag (32 ounces) of frozen Tater Tots
Directions:
In a large skillet, cook the ground beef over medium heat until it is no longer pink and drain the excess fat. Stir in the chili, tomato sauce, olives and green chilies. Transfer to a greased 9x13 inch pan or two greased 8 inch square baking dishes. Sprinkle with the cheese and then top with Tater Tots. To cook immediately without freezing, cover and bake the casserole at 350 degrees for 45-50 minutes or until thoroughly heated.
Cover with foil and freeze the casserole for up to three months. When you are ready to use the frozen casserole, remove it from the freezer 30 minutes before baking (do not thaw). Cover and bake at 350 degrees for 1 hour and 15 minutes to 1 hour and 30 minutes or until thoroughly heated.
One large casserole yields 12 servings while smaller casseroles yield six servings.