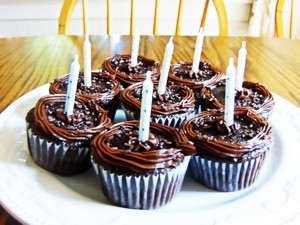 These are chocolate cupcakes I made for my little sisters birthday. I used the cake recipe on the bake of the Hersheys coco powder box, but instead of making a cake I made cupcakes. They turned out beautiful.
Source: I got the recipe for the cupcakes of the the back of Hersheys unsweetened coco powder box.
By Becca S from Bellflower, CA
A chocolate cupcake with a cream cheese-chocolate chip filling.
Ingredients:
Filling
1 8 oz. package of cream cheese, softened
1 unbeaten egg
1/3 cup sugar
1/8 tsp. salt
1 cup semi-sweet chocolate morsels
Batter
1 1/2 cups flour
1 cup sugar
1/4 cup cocoa
1 tsp. baking soda
1/2 tsp. salt
1 cup milk
1/3 cup cooking oil
1 Tbsp. vinegar
1 tsp. vanilla
Directions:
Combine cream cheese, egg, sugar and salt. Beat well and stir in chocolate chips. Set aside.
Mix dry ingredients together in a large bowl. Add liquids and beat well. Fill cupcake papers one-third full with batter. Top each one with one heaping teaspoonful of the cream cheese mixture. Bake at 350 degrees F. for 30-35 minutes. Makes 2 dozen.
*I always double or triple this recipe. I put them in the freezer and they are always great to pull out as a dessert or a treat. They are really good slightly frozen.
Servings:
24
Time:
20 Minutes Preparation Time
30 Minutes Cooking Time
Source: friend
By Patty K. from Turbotville, PA