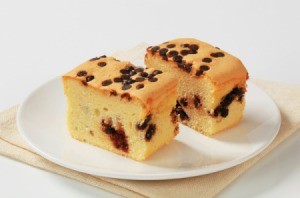 I have made this simple but delicious cake many times. Try it, you'll like it!
Ingredients
1 package Duncan Hines Deluxe II Devil's Food Cake Mix
1/4 cup oil
2 eggs
1 1/4 cups water
1 package chocolate instant pudding (4 serving size)
1 cup chocolate chips (6 oz package)
Directions
Preheat oven to 350 degrees F . Pour oil into a 13 x 9 x 2 inch pan. Tilt pan until bottom is covered with oil. Put remaining ingredients into pan; stir with a fork or spoon until blended (about 2 minutes). Scrape sides and spread batter evenly in pan. Bake at 350 degrees F for 35-45 minutes; until toothpick inserted near center comes out clean. Cooled cake may be sprinkled with powdered sugar. Use a knife to loosen cake from sides; cut and serve directly from pan. Store leftover cake loosely covered.
Alternate: Prepare pan as directed above using 1/4 cup oil. Add cake mix, 2 eggs, 1/2 cups water and 1 can (20-23 oz) cherry pie filling. Mix. Bake and serve as directed above.
By Debbie52 from IL

I am looking for a recipe that duplicates the old Betty Crocker Chocolate Chip Snackin' Cake. They stopped making it years ago and it was so good and easy. It was loved by so many. Any help would be greatly appreciated not only by me.
By Laura from Woodstock, ON
Answers

February 14, 2011
0

found this helpful
I looked around really hard to find the betty crocker recipe but didnt succeed maybe you can try the one below and see how you like it :-) hope this helps
2 c. Flour
3/4 c. Sugar
1 tsp Baking Soda
1/2 tsp Grnd Cinnamon
1/4 tsp Salt
3/4 c. Unsweetened Applesauce
1/3 c. Lowfat milk
3 Tbsp. Margarine, melted
1 x Egg White
2 tsp Vanilla
12 ounce Semi-Sweet Chocolate Chips
Directions
In a large bowl, combine flour, sugar, baking soda, cinnamon, and salt.
Stir in applesauce, lowfat milk, margarine, egg white, and vanilla, just till blended. Stir in 1 c. of the chocolate chips.
Spoon into a greased 9X9-inch baking pan. Sprinkle with remaining chocolate chips. Bake at 350F degrees for 30-35 min, or possibly till a wooden pick inserted in the center comes out clean. Cold in pan, then cut into squares.

February 15, 2011
0

found this helpful
Pumpkin Chocolate Chip Bread - (Taste's Like a Snackin' Cake)
1 cup vegetable oil
2 2/3 c sugar
4 large eggs
2 c pumpkin puree (I had frozen some from local pumpkins and used this)
2/3 c water
3 1/3 c of all-purpose flour (I used whole wheat flour)
1/2 t baking powder
2 t baking soda
1 1/2 t salt
1 t nutmeg
1 t vanilla extract (I always put a little extra vanilla!)
1 1/2 c chocolate chips
(The recipe also calls for 1 c chopped walnuts or pecans, but Jeff had eaten the rest of the pecans so I couldn't add this).
Cook for an hour at 350 (took mine a little longer)
Cream together the oil, sugar, pumpkin, eggs and water. The batter will be very runny--don't worry about this.
In a smaller bowl, mix the flour, baking powder, baking soda, salt and nutmeg. Stir into the wet ingredients. Add vanilla, nuts (if using) and chips.
Spoon batter into two loaf pans, lightly greased. Bake for an hour or so.
Let it sit overnight!

February 15, 2011
0

found this helpful
Hi, just go to Betty Crocker & then just type in Chocolate Chip Snack Cake & it will give u the recipe. Sound like a great cake.

March 7, 2011
0

found this helpful
I just use Betty Crocker butter/yellow cake mix make as box instructions state then add chocolate chips pour into floured cake pan then I add butter pats into the cake mix do not mix in just stick the butter pats throughout cake batter. I don't remember why I just made one like this once and now it is requested by many. Happy baking!
Answer

this Question

My wedding cake was the best cake I ever had. I have not been able to duplicate it for over 20 years. The "cake lady" who made it has passed and I have never been able to find anything comparable.
It was a chocolate chip cake, almost angel food like, but the icing was the best. It was a cream color and very smooth. It was even better when cold. To this day, I can still remember the "top" of the cake tasting just as wonderful when we took it out of the freezer one year later. Thanks to anyone if this sounds familiar.
By Beth from NJ
Answer

this Question