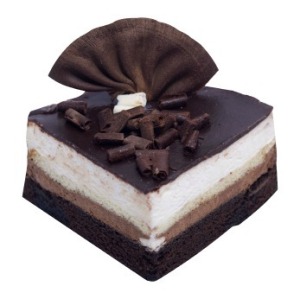 Add 1 heaping Tbsp. cocoa powder, 1 - 2 Tbsp. corn starch (depending upon how thick you want it to be) and 2 Tbsp. powdered sugar to powder of a chocolate pudding mix.
Subtract 1/2 cup milk from the box recipe and add black coffee in its place. Add a little vanilla. (or almond flavor if you like) Mix well with wand mixer or beater.
Bring to a boil over medium heat, stirring constantly with a spatula from the bottom. The pudding will get glossy and thick.
This is wonderful served warm with whipped cream.
It's also an excellent filler for a layer cake. Pipe frosting around the top of the bottom layer, let set a little and fill with pudding. Add the top layer and secure with toothpicks until it sets.
If you put the pudding into a loaf pan and stand cookies up in it before it cools, after a while the cookies will soften to a cakelike texture, and you'll have something similar to an old fashioned ice box cake : )
Very simple dessert that can be served with elegance.
By U*u*U
Mix and melt the margarine and chocolate. Allow to cool. Combine powdered sugar, egg yolks, and vanilla. Fold in beaten egg whites. Add to chocolate mixture. Combine vanilla wafer crumbs and nuts. Layer in 9x13 inch cake pan:
Read More...