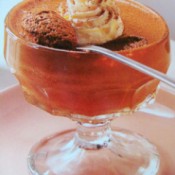 This recipe is quick, easy, and absolutely delicious. I am a sucker for chocolate and this tasty treat makes for a perfect dessert after a fancy meal or evening. With Christmas quickly approaching, I thought it would be perfect for the season. We all want everything to look beautiful, as well as be simple, this time of year. That makes this recipe all that and a bag of potato chips! ;)
Ingredients:
125 g (4 1/2 oz.) dark chocolate, chopped
4 eggs, separated
185 ml (3/4 cup) cream, whipped
Directions:
Put the chocolate in a heatproof bowl. Bring a pan of water to a simmer, remove from the heat and place the bowl over the pan. (Don't let the base of the bowl touch the water!) Melt the chocolate, stirring occasionally. Remove from the heat and cool slightly. Lightly beat the egg yolks and stir into the chocolate mixture. Fold in the cream.
Using electric beaters, whisk the egg whites in a small bowl until soft peaks form. (They'll start sticking up in the air, basically pointing at you, when you remove the whisk, that's how you know they're ready!) Fold one spoonful of the egg whites into the mousse with a metal spoon, then gently fold in the remainder, quickly and lightly. (I tell myself to be smooth with my motions and quick with my actions during this part. It helps me to do as the book calls 'quickly and lightly'.)
Pour the mousse into 6 wine glasses or 185 ml (3/4 cup) ramekins. (I like to use small cocktail glasses for smaller servings and the same, pretty effect.) Cover with plastic wrap and refrigerate for 4 hours or overnight.
Top with extra whipped cream and dust with cocoa powder, if desired. I like to dust every other one with coconut instead of cocoa powder. It gives you a nice color contrast when you bring out your dessert tray.
Nutrition Per Serving:
275 Calories; Protein 6 g; Fat 22 g; Carbs 15 g; Dietary Fiber 0 g; Cholesterol 160 mg
(My book gives me the nutritional information, so I thought you guys may enjoy having it, as well. Merry Christmas, all!)
Source: Comfort Food from Bay Book's Confident Cooking
By Chelle152 from Coquille, OR