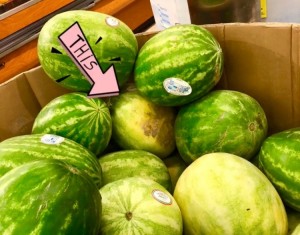 As watermelon season wraps up, we are seeing tons of them on sale. You want to make sure you choose a good one, or else you'll be stuck with 15 pounds of lackluster fruit. The key to finding a good one by sight is looking for a rather ugly one that has a big yellowish patch on one side. That spot indicates how it was resting on the field. The darker the yellow, the longer it's been sweetening up. If you do not see one of these spots, it is underripe.
Try to find one that's uniform in shape, whether it is round or oval. If you see irregular bumps, it was not getting proper water or sunlight, changing its taste. Little brown scuff marks on the melon are also good. They are an indication that sugar is coming out of it, which means it's even sweeter. You should also give it a knock with your knuckles. A muffled hollow thud means it's a good one, and a higher pitched ringing sounds means it is unripe.
In my photo, I added a pink arrow so you know which one we went with, and it was PERFECT!
My friend's dad was in charge of the produce section of a big grocery store for years. He gave me all these pointers.