Cyinda
Bronze Post Medal for All Time! 213 Posts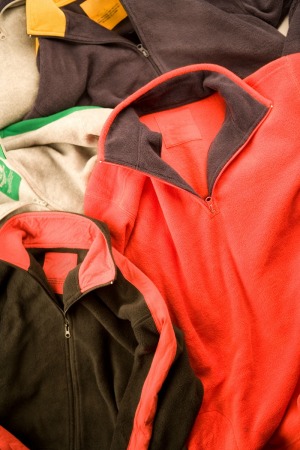 I have a pair of comfy fleece pants that I dearly love but like most fleece fabric they collect pet hair, lint and get ugly balls on them. They looked so bad I was about to throw them away when I came up with a solution. I take a regular bristle hair brush and lay the pants flat then just brush them one way, then the other.
This brushing not only removes the lint and hair, it also removes those nasty balls that you get on fleece! I'm not kidding when I say they look like new again!
Make sure the brush is an old fashioned (plastic) bristle brush, and not one of the newer metal or hard plastic styling brushes.
By Cyinda
Does anyone know how to get urine smells out of fleece? My son isn't night-time potty trained yet, and sometimes his diaper leaks. His fleece sleepwear and fleece blanket are both stinky even after having been washed twice. I've tried (one at a time, not all at once!) Oxyclean, baking soda, regular bleach (just a tiny bit since I don't want to ruin the colors of the fleece), and vinegar along with the usual laundry detergent.
We're allergic to the perfumes in the anti-static rinses like Bounce, so that's a no go; besides, I want to REMOVE the pee smell, not mask it. Any help would be greatly appreciated!
Lynne
Answers

February 16, 2005
0

found this helpful
I know that if you wash clothes with real vanilla it will remove smoke odors (like from a house fire) It might be worth a shot. You have to use the real stuff not the imitation extract. I would probably use anywhere from 1/4 to a full cup depending on the size of the wash load.
Also, I believe febreeze makes a "Free" formula. You may try a bit in your wash.
Good luck!

February 16, 2005
0

found this helpful
I suggest trying Borax added with your laundry detergent. Good luck! Oh, and is there anyway you dry the items outdoors?

February 16, 2005
0

found this helpful
I've posted this before regarding other questions to do with odors, but since I really believe in it, I'll post it again. I'm an Independent Watkins Associate (i.e. vanilla, spices, extract, liniments, salves, household cleaners, etc.), and we carry an absolutely great product called Odor Zap. It does not mask odors, it completely neutralizes odors through oxidation, actually chemically taking the odor-causing chemicals away. Odor Zap may be sprayed onto surfaces (i.e. carpets, upholster), put in mopping solutions, humidifiers, vaporizers, etc., and may be added to laundry loads.
Use for smoke, mildew, paint fumes, or waste matter. May be used on sports equipment, shoes - even wet dogs as the product is 100% safe for people, pets, and the environment. Odor Zap is biodegradable, non-toxic, non-allergenic, non-masking, non-staining, and safe for septic tanks as well.
If you would like me to send you a catalog, just e-mail me and request one and I'll be happy to get one off to you.

Trudy Powell
Independent Watkins Associate
trudypowell@sbcglobal.net
www.mo3bk.com
By Fredda (Guest Post)
February 16, 2005
0

found this helpful
Most fleece fabrics won't have the colour effected by bleach....also you have to make sure you use hot water.
By Kentucky Lass (Guest Post)
February 16, 2005
0

found this helpful
Try adding a cup of white distilled vinegar in your final rinse water. Not only does it help eliminate odors, it is anti-bacterial, and helps remove soap residue. There will be no vinegar smell.
I also like to use downy fabric softener sheets, but NOT on dark clothes, because it spots them. It is a nice clean smell, but if one has allergies, I would just use the vinegar.
Good Luck!
By Linda (Guest Post)
February 16, 2005
1

found this helpful
Soak overnight in a pretty strong vinegar solution. This won't harm the fabric or color. Drain in the AM and then wash as usual with laundry soap.
If that doesn't work try an enzyme cleaner like Natur's Miracle found in Pet stores.
By Guest (Guest Post)
February 16, 2005
0

found this helpful
Try using spreading shaving crem over the area and let sit for few hours, then wash as usual. Another suggestion is to add 1/2 cup of Mr. Clean or similiar type product along with your detergent when washing the articles. Rinse a second time for best results

February 17, 2005
0

found this helpful
I would say soak the items in baking soda over night then give them a good wash with hot water and then hang them outside to dry.
Hugs, Zissy

February 17, 2005
0

found this helpful
I also had the same problem with both of my sons too, I wash the everyting in as hot as water as I can,
with bleach and soap, then I hang everything out to air dry,
the sun and wind helps pull all the smells out
Cindy, from Elkhart, In.
By Ann4 (Guest Post)
February 17, 2005
0

found this helpful
I've had luck washing items with liquid Lysol - just that. Then I wash them a second time with detergent and you could add vinegar to the rinse. I always wash in cold water.
By Suzie (Guest Post)
February 19, 2005
0

found this helpful
Try Arm & Hammer's Super Washing Soda. It is a laundry booster in addition to absorbing odors. Good luck!

February 19, 2005
0

found this helpful
Pet Stain & Oder Remover will remove all traces of urine from any fabric or carpeting. There are many different brands, but they all work pretty much the same.
By Joandogs (Guest Post)
October 5, 2005
0

found this helpful
2 suggestions-Oust spray for rooms-I have an incontinent dog and this works quickly and completely on both urine and stool odors. WalMart $3.47 unscented.
Second suggestion-KrudKutter at Lowe's $5.87 for 40 oz in spray bottle. Dog urine on off white velvet chair-sprayed with KrudKutter, waited 3-4 minutes wiped with white towel-no stain,no odor. Will also take out bad laundry stains [spaghetti sauce on white blouse had been washed & dried. KrudKutter took the stain out completely. Sprayed blouse, left it on washer while putting other clothes in, put in and washed with warm/cold water. No smell to it, either

December 26, 2005
0

found this helpful
VINEGAR!!!!
Dilute 1/2 cup of white vinegar with enough warm water to make 4 cups vinegar water.
You can double if necessary.
Just throughly wet his sleeper and blanket in vinegar water and I promise no more odor!!
Then wash as you normally would.
Use this to deodorize his matress too if it needs it.
Much safer than using harsh chemicals in his clothing and bedding.
Read More

Answers