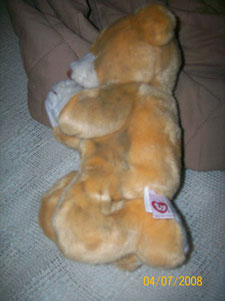 How can you get the smoke out of a stuffed animal without putting it in the washing machine? They are beanie babies and they don't smell like smoke but you can see the smoke on them. I would love to get them clean. They are my kids and I had the fire about 5 years ago and still not sure how to get the smoke off of them so if anyone would have any idea's it would really help.
Dana from Merrill, WI
Answers
April 9, 2008
0

found this helpful
Try wiping with a baby wipe or putting in a sack of cornmeal and shaking.
April 10, 2008
0

found this helpful
They say you can put silk flowers in a bag with baking (or washing) soda and shake to remove dust. Wouldn't hurt to try. Then you could use a nozzle on the vac to remove left overs.
By Nola (Guest Post)
April 11, 2008
0

found this helpful
Try Gund's spray on cleaner for stuffies. It really works.
By Marie (Guest Post)
April 11, 2008
0

found this helpful
Build-a-Bear (www.buildabear.com) sells a GREAT stuffed animal cleaner that really works, & it is inexpensive!
By kinga (Guest Post)
April 12, 2008
0

found this helpful
I collect teddy bears and pick them up at garage sales and all of them go into the washing machine with warm water and any laundry detergent, do not dry them in the dryer hang out side to dry then fluff in the dryer and they are just like new. The heat of the dryer seems to singe the material. Good luck Beanie babies come out beautifull.
By Shawne (Guest Post)
July 20, 2008
0

found this helpful
I have a white beanie baby that gets regular cigarette smoke film on it from time to time. I just put it in a pillowcase and tie a tight knot in the top of the pillowcase and throw it in the washer. I remove it immeditatly from the washer and pillowcase when the cycle is done and brush the fur back into place with my hand and let air dry. You could never tell she's had a "bath" every 6 months for the last 6 years.
May 4, 2010
0

found this helpful
What you are looking at is SOOT from the fire, not smoke. That takes a much different cleaning tool. To remove smoke or other smells, just put the toys in a pillow case, pin shut with safety pins, and wash as usual, air dry then toss into dryer 10 minutes to fluff.
February 4, 2016
0

found this helpful
You can wash them with oxi clean on gentle cycle won't hurt them I have a teddy bear 15ft tall got soot on it from the fireplace too big for a washing machine so I might just use a rag and a bucket mixed with water and ammonia let u know how it goes
Answer

this Question
Regarding cleaning large stuffed animals, would Woolite be a good detergent for washing a several foot long animal?
By Shoshie from Greenville, SC

Answers
November 3, 2010
0

found this helpful
What is the material your stuffy is made of and the stuffing used? If it is machine washable, take it to the laundromat and wash it if it won't fit into your washer. Use cold water versus hot. They will fluff up again after putting in a dryer on low heat and look new.
November 15, 2011
0

found this helpful
For my grandkids' furry friends, my secret ingredient is always baking soda. If the stuffed animal is small, then I see if I can hand wash it in a solution of warm (or hot) water with a couple of tablespoons of baking soda. But in your case, if the stuffed animal is too big, then I would use a piece of cloth and soak the cloth in the solution and use it to gently wipe it on the stuffed animals. I've tried many cleaning methods that I read online and www.cleanstuffedanimals.com have some interesting techniques.
Answer

this Question
I have many used stuffed animals that I would like to donate, but I know they must be cleaned first. I can't afford to dry clean them all, but I was wondering if I could wash/dry them at home? (I don't have a front load washer just a basic model.) Do you know of any organizations that take "gently used" animals?
By Daisee Mae
Answers
February 1, 2015
0

found this helpful
I have a lot of stuffed animals. Some I found in the trash and that is exactly how I clean them. They do perfectly fine in the dryer. I just would put them in for 20 minutes at the most, if they're still wet you can put them in for longer. I hope this helped. :)
Answer

this Question