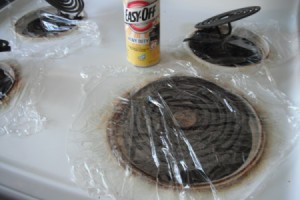 This morning, the weather was cool and I thought it would be a good time to clean the top of the kitchen stove. The large eye gets used a lot and over a period of time the stove top looks awful with baked on grease around the stove eye. To remove it, I use Easy Off Heavy Duty Oven Cleaner.
This is what I do to clean the stove top.
1. Raise the kitchen window and turn on the exhaust fan for plenty of ventilation.

2. Remove the drip pans and stove rings.
3. Lift the stove eyes and spray Easy-Off around the eye surfaces. Cover with Glad Cling Wrap. (I hold my breath while doing this.) Let sit for an hour or so. After 30 minutes, you can tell that the grime has loosened by rubbing it with your finger.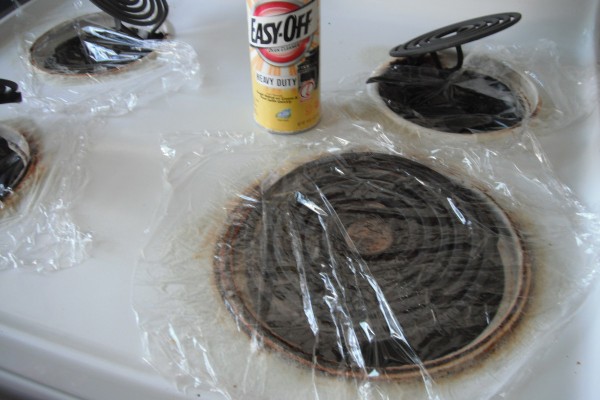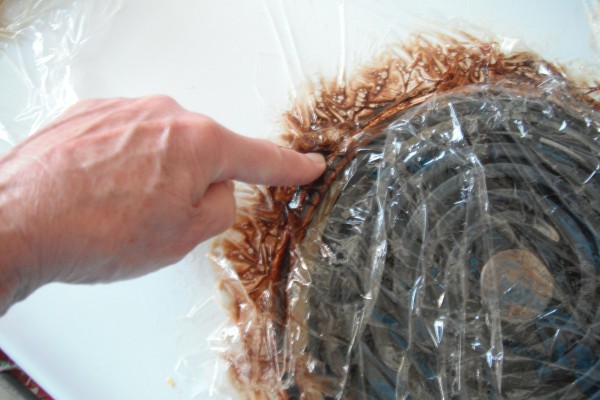 4. Put on rubber gloves. Remove the plastic wrap. Wipe up the grime with paper towels or disposable clothes.
5. Wipe surface clean with soapy dish cloth.
6. Replace drip pans and rings and enjoy your achievement.