Cleaning a Textured (Popcorn) Ceiling
Solutions
Share on ThriftyFunThis guide contains the following solutions. Have something to add? Please share your solution!
This was a frustrating solution to figure out. I'm sharing it in hopes it will help someone. About a year ago we bought an older home that had popcorn ceilings throughout. I didn't notice until after moving in that there was dust stuck to every one of those stupid ridges; dust and years of what appeared to be cobwebs.
I first tried a regular duster. I didn't get much off there but I did get a mouthful of popcorn and a heck of a mess on the floor I do not recommend trying that method.
Second, I used duct tape to secure a swifter duster to a broom stick, again big mess in the floor, little (if any) dust removed from ceiling and little pieces of swifter duster stuck to the ridges in addition to the dust.
Ok, so this was beginning to drive me crazy. Over several months, I tried loads of different methods, failing each time until I decided I'd try one last thing before breaking down and scraping it smooth and painting.
So the solution is: Duct tape wrapped around a paint roller (wrong side out obviously). This worked like a charm!
It's easy, cheap and effective. I highly recommend trying it. You'll be happy knowing you finally cleaned the ceiling.
By Dana from Katy, Texas
My popcorn ceilings may be old, but I still want them to be clean. They tend to collect dust and spiderwebs over time, and I've finally found a way to get them clean without much effort! Just use a new, thick-knapped paint roller, on an extension pole if possible. Dampen the roller with plain water (only slightly to avoid drips), and then just roll the surface as if you were painting, rinsing the roller as needed. If your ceiling is particularly dirty, you can add a small amount of vinegar or mild detergent to the water. This tip works very well, and you'll be done in no time!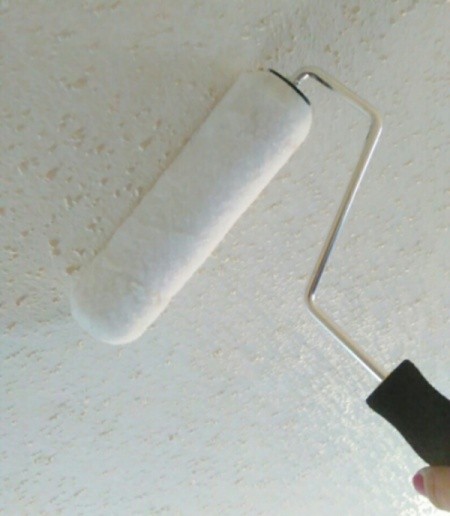 We have a textured ceiling in our kitchen, and it had a lot of dirt and grease buildup (little fuzzies all over the ceiling). I tried washing it, which did not work, so we came up with the idea of using a paint roller with an extender and putting a lint roller (the masking-tape type) on each end. They fit perfectly, and the dirt came right off. It looks so much better!
By Bobbie g from Rockwall, TX
My bedroom ceiling is covered in popcorn coating. Each time I lay in bed, my focus was drawn to the dust hang off the popcorn. For me, that was bothersome as I am asthmatic. The other day it occurred to me that I could use compressed air to blow them off.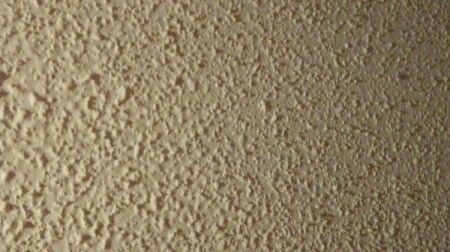 Read More...
I dust my popcorn ceiling by using a broom. Yes, it does cause some particles to fall but not if you dust/broom it lightly.
Read More...
Questions
Ask a QuestionHere are the questions asked by community members. Read on to see the answers provided by the ThriftyFun community or ask a new question.
I have dust from a ceiling fan on my popcorn ceiling. How do I clean it?
By rmewife from Enterprise, AL
Answers
May 14, 2009
0

found this helpful
Best Answer
Most popcorn ceilings contain asbestos. Anything containing asbestos should not be moved around - washed, removed, whatever. As you were washing your ceiling you might not notice tiny airborne pieces of asbestos flaking off, but if you inhaled any of it - you might be setting up a problem for your lungs.
My husband has mesotheilioma - essentially lung cancer - from asbestos exposure. Please read about popcorn ceiling by googling for info. The recommendation is to have some of your ceilings' material tested for asbestos. Some of the popcorn ceilings do not contain asbestos (but very few). I hope you are lucky & yours is safe.
June 9, 2009
0

found this helpful
Best Answer
I would lightly vacuum with the extension pole and re-paint with ceiling paint. They make a ceiling paint that goes on light blue and dries to white. It is easier to see where you have painted. Just don't wet it with water, you could have your ceiling coming down around your ears!
June 9, 2009
0

found this helpful
Best Answer
I bought one of the new Swiffer dusters, the one with the handle that can be made longer. That works real well for cleaning my popcorn ceiling that gets dirty from ceiling fan. The handle isn't as long as I would like, but this duster goes over it so lightly it doesn't make the wonderful popcorn break off, and it gets rid of the dust.
My ceiling was really bad and I had to use two of fluffy duster things to get the job done, but I am satisfied.
June 9, 2009
0

found this helpful
Best Answer
If you want to get rid of the popcorn ceiling altogether, find a person who knows how to skim coat and they'll make it disappear. We did that in my daughter's bathroom and I couldn't be more pleased with the results. For now, though, I'll have to continue vacuuming the ceiling in my room.
January 21, 2010
0

found this helpful
Best Answer
I don't know about other countries, but asbestos was banned in the USA in 1977. Popcorn ceilings continued to be popular in home building, however, bits of styrofoam instead of asbestos were used. So you needn't worry about asbestos unless your home was built prior to 1977.
We bought a home built in 1992 that has popcorn ceilings throughout. They are a terrible pain to clean and seem to collect every bit of dust in the air.
I use one of those fluffy long-handled dusters to do iit but still manage to knock down "popcorn bits" every time.
December 7, 2010
0

found this helpful
Best Answer
Use a broom with a soft cloth secured over the bristles and gently brush the debris away. If you don't know the age of the popcorn ceiling be sure to wear a mask because the popcorn ceilings installed prior to the 1980's more than likely contain asbestos. Also be sure to clean up all droppings right after wiping the ceiling that might have fallen and wash the cloth used.
June 16, 2017
0

found this helpful
Best Answer
Take a 6 inch putty knife and start where the ceiling meets the wall, Tilt blade between 15-45 degrees and firmly press the blade against the ceiling and drag it and, presto BAM, popcorn comes off super easy. If you master the six inch, go get the 12 inch or bigger to get it done faster. Textured or "stomped" ceiling will require a professional remove it, unless you have the big skimmer tool or a Tim Allen belt sander. But popcorn easy as pie.
Answer

this Question

...
How do you clean popcorn ceilings? Mine have black, sooty stains right near the heat registers. Thanks.
By dodie from Winston Salem, NC
Answers
April 8, 2008
0

found this helpful
Best Answer
If you have a canister style vacuum cleaner, use the long hose attachment with the brush on the end of it. Brush over the ceiling very lightly with the brush and vacuum it. You may need a step ladder too.
By Martha (Guest Post)
April 8, 2008
0

found this helpful
Best Answer
I have used a couple of things: a long handled "fluffy" duster and a broom to which I have attached a damp cloth. I brush over the ceiling gently, some of the little white bumps come off, but it's easier for me than using a vacuum.
May 19, 2010
0

found this helpful
Best Answer
To get rid of a stain on a popcorn ceiling I was once advised to put some hydrogen peroxide in a spray bottle and spray the stain. I let it dry and then tried it again. It did take the two applications, but it worked for me. I don't know about soot, though. It's worth a try!
May 21, 2010
0

found this helpful
Best Answer
Unless you know that your popcorn ceiling is asbestos free, you should not disturb it. Asbestos can cause serious health damage, cancer and possibly death. Many popcorn ceilings contain asbestos.
Answer

this Question

...
My son let a candle burn down to the smoking point in his room with the ceiling fan on that sprayed black soot all over the room. It is on the walls, drapes, lamp shades and worst of all the popcorn ceiling! How do I cleaning the ceiling without spreading it all over?
By Liz from Maitland, FL
Answers
March 5, 2010
0

found this helpful
Best Answer
Dust around the fans and ceiling vents with a dry paint brush or feather duster. Use a vacuum cleaner with a soft brush attachment to carefully clean the larger areas. Never scrub with a cloth as this can break free bits of the plaster.
It is a labor intensive job, but easily accomplished when done as outlined above. Once or twice a year should keep them dust and cobweb free, I didn't do it more often than that, life's too short!
If your ceilings are discolored from cooking or cigarette smoke, they can be painted. One coat of Kilz brand primer paint will insure that stains don't bleed through. Allow to dry completely before applying a coat of white ceiling paint. It will make a wonderful difference in the look and smell of the house.
Using drop cloths and a sprayer will stop the plaster from moving around when it's wet. If you have to use a brush or thick roller, make sure that the ceiling dries completely between coats. It is very important that the plaster not be disturbed when it softens!
Answer

this Question

...
May 25, 2006
0

found this helpful
I have a Spackled dry wall ceiling and it is stained yellow. How do I clean off the ceiling without damaging the Spackle?

William from southwest MI
Answers
By Jana Meyers (Guest Post)
May 25, 2006
0

found this helpful
Use a stain blocking primer like kilz or sherwin williams, then paint it!
May 26, 2006
0

found this helpful
Paint it,
you will need more than 1 coat of paint
By ed lee (Guest Post)
January 20, 2009
0

found this helpful
50/50 solution, water and bleach, spray it on. Ceiling come up white as snow.
July 2, 2016
0

found this helpful
Agreed. Kilz and then I painted my kitchen ceiling with semi-gloss. Now cleaning it is as easy as a soft cloth, Dawn detergent and warm water. Beautiful!
Answer

this Question

...
Related Content