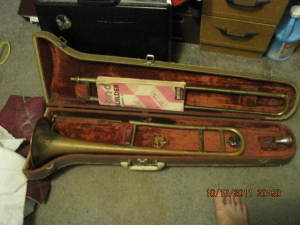 I was given a horn (trombone) and it has set in an old vacant house in the south in its case for 8 years, with no care. How do I clean this safely?

By gbk from south GA
Answers
October 19, 2011
0

found this helpful
Best Answer
I am a retired band director and have cleaned trombones and trumpets. Clean the trombone in the bathtub with warm soapy water, dish soap like Dawn is fine. Take it apart, being careful not to dent it or bend the slide. Wash outside with a soft cloth. Clean inside the slide tubes and the bell with a swab (brush on a long spring) that you can purchase in a music store. Rinse in running water and dry outside. Put slide oil on the slide tubes and barest hint of Vaseline on the connector joint.
This process gets rid of the dirt and yucky green stuff you find in every horn that hasn't been cleaned in a while.
The case will need to be vacuumed thoroughly, surface cleaned (plain water is probably best) and set in hot sun for several days. Otherwise it will smell musty and may grow insect larva.
Your instrument looks like an Olds I have. It will not get shiny when clean.
Oh, and don't store the music book in the case. It may bend delicate parts!
Consider learning to play the instrument!
October 18, 2011
0

found this helpful
You can clean the outside with any brass cleaner - just be careful not to get it in the works. If you really want to play it - I would recommend taking it into an instrument repairman to make sure it's all playable.
If you are brave, there are instructions you can find on the net about about to maintain instruments. Be glad it was in a case - that protects it to a great degree.
October 18, 2011
0

found this helpful
If your intent is to eventually play it or you want to sell a "playable" trumpet go to a music shop and find someone who knows what they are doing. You could ruin it.
October 18, 2011
0

found this helpful
Thanks you all. I think I'll check with a music shop as you suggest. No, I don't want to play it, but might sell it when I get all its history sorted out. I have found out that it is a 1958 F.E. Olds & Sons and made in California.
Answer

this Question

...