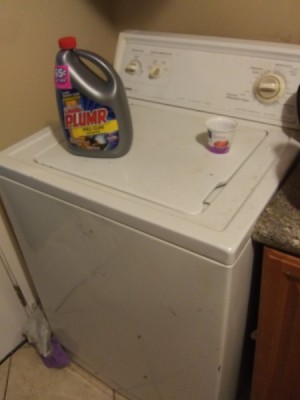 I had a problem with my washing machine. The pipe that drained the dirty water was clogged, so dirty water was flowing out of it and into the bottom of the house. I have a home warranty (if I can get rid of it, let me know!) but I also have "a guy." He comes over for $20, while the home warranty comes over for $100. Well, he couldn't fix it, so I called the home warranty people. My guy used a snake, and they used a snake, left, and had to come over again with a longer snake. My guy said to use drain cleaner at first, but that didn't work.
Well, yesterday, it backed up again, and I don't even have the 20 to spare, so I got a bottle of Liquid Plumber, brand name, not the stuff I had bought before, I guess. It didn't work last night, but I let it sit overnight, and, hooray, it worked! For those of you going "duh," well, I didn't know I didn't have to call for 3 visits and 3 different snakes. I nearly went out and bought a snake so I wouldn't have to call anyone, but I decided to let Liquid Plumber work first, and it worked. Hooray!
If you know a better remedy than Liquid Plumber, well, I'm sure you do, but instead of building a Big Bang Theory chemistry set, I will use Liquid Plumber until I know better.
Thanks for reading.