August 18, 2011
0

found this helpful
I have picked out a dark green for the walls in my library. I have a maroon colored sofa but am undecided on the drapes. I've gone from chocolate brown velvet, to crimson, to light green. I would like velvet. The floors are going to be walnut colored hardwood. The bookcases around the whole room except for the windows are walnut.
By M. Jardon
Answers
August 18, 2011
0

found this helpful
The first color that came to mind is a tanish-gold sheer (some light has to come into the room). I have them in my living room - available at Bed, Bath and Beyond. They look wonderful and match everything. I've also seen silk gold and burgundy wide vertical stripes - that might look nice, too. Somehow, I'm thinking subtle tannish-gold is your best bet.
August 18, 2011
0

found this helpful
I agree with DaniLion. Either a goldy or tannish color would look great, and not be another dark tone.
August 19, 2011
0

found this helpful
"Dark Green" as in....Hunter Green? If so, that would go great with a Beige color.
Or a "Tapestry" print with Green, Maroon and Beige in the colors, would be even better!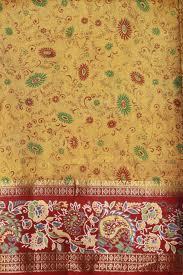 August 19, 2011
0

found this helpful
A patterned multicolored fabric that incorporates at least two of those colors but can also include other colors. The colors you mention bring to mind a conservative type "tapestry' like Karen mentions but that can be a traditional floral or a modern type of print. The background color should be a lighter/brighter color/shade so the room doesn't seem too dark and dingy.
August 21, 2011
0

found this helpful
Dark green velvet like your walls with golden or burgundy sheers under. Beautiful mixed colors silk rope pullbacks would add a rich touch; with those colors in lovely pillows on your sofa.
Burgundy velvet would be great, too, to work with your maroon leather.
Answer

this Question

...
December 17, 2014
0

found this helpful
I am purchasing a chocolate brown sectional and painting my walls a cream with gold colorant (I like to think of it as cake batter yellow). My floors are a medium wood color. What color drapes should I use?
By Meche Q
Answers
December 17, 2014
0

found this helpful
I think a burgundy or slate green would be pretty. I have medium colored hardwood, walls are painted a very pale green with a focal wall of brick color. My drapes are white with very small burgundy flowers/ green stems. I bought burgundy scarfs for windows. Looks lovely :)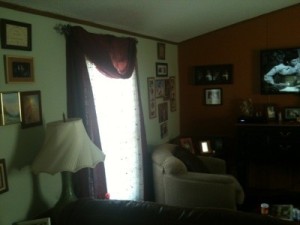 December 21, 2014
0

found this helpful
I agree that burgundy or a soft green would be nice. I would also like a soft blue. If you choose a print, choose one that has the brown from the couch and yellow from the walls in it. If the room is small, you might like to go with a curtain that matches the wallcolour to make the room appear bigger. And there is always white or cream; you can never go wrong with white in my opinion.
Do not go with too bright or bold a colour or your house will look like an Easter egg.
You might like to put up a curtain that matches the drapes between your daughter's room and this one, for privacy. As well, then your daughter can paint her glitzy room any colour that she pleases without regard for what you are doing out here. I noticed that you have asked about paint for her room also.
Answer

this Question

...
April 13, 2015
0

found this helpful
I have cream walls, a light tan carpet, grey/black and brown furniture. What color drapes will tie it all in?
By Amy W.
Answers
April 15, 2015
0

found this helpful
This is a very neutral pallet. I would choose cream drapes that match the walls, as I think drapes and walls should provide a quiet background. However, I suppose you could pick a patterned drape in just about any combo using the tan, black, cream and an accent colour, and then accessorize with that accent colour with cushions, afghans, paintings, etc.
Answer

this Question

...