June 1, 2004
0

found this helpful
I have a little boys room that they have dark blue headboards. What would be a good color to paint their wall?
Answers
By Lee-Ann from Canada (Guest Post)
June 2, 2004
0

found this helpful
Yellow? Tan? I have 2 little boys in one room too. Check out glidden.com, they have an area where you can test colours in rooms online. We have been using Melamine paint, it's very scrubbable.
Have fun!
By Patticat (Guest Post)
June 2, 2004
0

found this helpful
Color choices depend on the size of the room, other colors in the room and how much natural light the room gets. Bright colors like yellow, orange and red warm a room, while blue, green and purple cool a room. If the main purpose of the room is to sleep and to study, keep to the cool colors. If the room is small or there is a lot of furniture making the room seem small, stick to lighter colors to help the room seem larger (if there are 6 or 7 colors on a color strip, stay to the lightest 3). A contrasting color can add visual interest to the room and tie different things together. Are there several colors in the carpet? Do the curtains have any colors that you like? It doesn't have to be an exact match, just enough to tie things together. Use a bright, clean yellow or red to contrast a blue. To save youself time and money, take several different color swatches home, tape them to the wall (some are self stick nowadays) and live with them FOR SEVERAL DAYS. Do you like the color with the lighting in the room in the evening, or during the day when the sun shines in?
Colors look different in the store under flourescent lights without any furniture or carpeting to fight with. If you still aren't sure about the color, buy a quart can and paint a 3 ft by 3 ft swatch on the wall or a piece of cardboard and live with that for a few days. You also need to consider the sheen level of the paint itself. Flat paint absorbs light and hides flaws, but can make a room seem smaller and is not a good choice in rooms that may need to have the walls cleaned frequently (kitchens, baths, childrens' rooms). Eggshell and satin reflect a little more light and are more scrubbable than flat (some flats are getting much better in this category); semigloss and gloss are the toughest finishes and reflect light the best, but they don't hide flaws very well. Beyond that, use your own personal taste. While Barney purple and neon green may seem great to some people, others prefer a more conservative look. Good luck and be brave, after all, you can always paint again if you don't like it.
By Stella Rivet (Guest Post)
June 2, 2004
0

found this helpful
My first instinct is Orange, this will complement the blue head boards well. You don't have to get a pure orange, you could get one with some yellow in it, Which isn't as drastic.
By Karen (Guest Post)
June 2, 2004
0

found this helpful
I would suggest red (you could continue with a patriotic or nautical theme), tan for something more sedate, or maybe do a denim treatment. This would result in a slightly lighter blue.
White trim for contrast. Use accessories to keep the room from being too blue. You could always paint the headboards if you want to avoid blue altogether.
June 8, 2004
0

found this helpful
I think a light blue would complement that navy blue. Also, sometimes a yellow or lighter color would neutralize the strong blue, and yellow would make it a bit more gender-neutral. I hope that helps!
Shannon
By Ginger Newborn (Guest Post)
June 21, 2004
0

found this helpful
Do you have their bedding? This helps with the theme of the room like rain forest, cowboy etc. Usually you can pull a color from it and go one shade lighter. Sherwin Williams will order larger samples for you to tape to wall if you need it. They are 8x10, so you can get a good idea on the shades.
By reniece turner (Guest Post)
November 9, 2004
0

found this helpful
Thanks for the advice ! I also have two little boys that share a room I'm thinking of a dark blue but not a navy .
By Crystal (Guest Post)
December 27, 2004
0

found this helpful
Psychology of Color
Find a green color that goes with the blue. Green is a cheerful and relaxing color. It is the best for kids rooms. Don't paint it a bright, power color like orange or red.
Red stimulates a faster heartbeat and breathing. Yellow is not bad but people lose their tempers more often in yellow rooms. You can break all the rules in a kids room.
By Ahmed (Guest Post)
March 7, 2005
0

found this helpful
We have two single beds which has a red color header, dark blue footer and the sides of the beds are yellow. The wardrobe is also of the same colors as the beds. TV trolley is plain dark blue in color. Curtains are yellow in color with colorful umbrellas made on it. Kindly tell us if we need to paint the wall/s what color combination should we use. The room is shared by the brother and sister (age group 1-5 years). Your quick response will be highly appreciated.
By Zulma Henriquez (Guest Post)
April 22, 2005
0

found this helpful
I have a little boy room his headboard is sky blue what would be the best color to paint his room.
By SHenriquez7ny (Guest Post)
April 23, 2005
0

found this helpful
I HAVE A LITTLE BOY ROOM THAT HIS HEADBOARD IS PERRIWINKLE BLUE. wHAT WOULD BE THE BEST COLOR TO USE TO PAINT HIS ROOM
By Stefanie From Canada (Guest Post)
August 8, 2005
0

found this helpful
I am painting my son's new room from pink and I want to paint one wall darker than the other. What are two Blue colours that would go well together without making his room feel too small and dark?
By joe (Guest Post)
February 16, 2006
0

found this helpful
I want to paint my sons room a blue color but I would like two contrasting colors. how do I go about which shade to pick light or dark blue and what contrasting color.
By Zandra (Guest Post)
October 27, 2006
0

found this helpful
I'm in the process of painting my son and daughter's bedroom that they share, light blue and green. I thought about doing the bottom walls green and the top blue. Now I want to paint stripes. What would you suggest?
Read More Answers
December 4, 2006
0

found this helpful
What color should I paint a kids room who has ADHD?

Chyna from New Iberia, LA
Answers
December 5, 2006
0

found this helpful
I would suggest blue, it is supposed to be a very calming color
December 5, 2006
0

found this helpful
i was also thinking blue. it is calming.
December 6, 2006
0

found this helpful
Cool colors are the most calming. Stick with any cool blue, green, violet, or in-between shades.
I'd be careful to use a medium to light hue, since the darker versions are bolder and more energetic, which is contrary to what you are looking for.
By (Guest Post)
December 6, 2006
0

found this helpful
i have a son with ADHD and i would say paint the room his favourite colour, just how far do you think this condition is going to affect you?
By FreeStuffandSamples.com (Guest Post)
December 6, 2006
0

found this helpful
I'd like to suggest that it's not just about the color, but the atmophere created within the room. For kids with ADHD, a low-tension, calming, relaxing, safe environment is best, so please consider not only colors, but other sights, sounds, and even textures.
Blue is very calming, but all blue can be a bit depressing. Brown and green are colors to use with blue as they are all grounding and natural colors.
Hope that Helps.
By Linda Smyth (Guest Post)
February 20, 2007
0

found this helpful
Many years ago I saw a documentary on prisoners and how they painted a cell a strong pink. When a very violent prisoner was placed in this cell, after half an hour they calmed down completely. Prisoners who were placed in an normal cell were still very angry after an hour in there.
I know that pink may not be a good colour for a boy, or is this a girl that you are talking about?
Read More Answers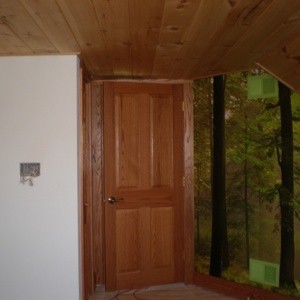 We are remodeling upstairs in our home and I am trying to find the right color for my daughter's new bedroom. There is light pine wood on the ceiling which slants down on two sides and medium stained baseboards and trim around one big window that faces north.
The room gets medium light from window. We put an autumn forest wallpaper mural on one small angled wall which has all different greens in it. I'm thinking a green color for other walls, but cannot find the right green. We want a woodsy forest look in the room, but something that she will still like as she gets older (8 years old now).
Any suggestions of some colors (exact name and brand) would be great. I am looking at several brands, Sherwin Williams, Dutch Boy, Glidden, Pittsburg, Behr, Valspar, and Ace. Possibly thinking of doing the window wall a lighter color than other walls? Not sure. Thanks.
By Kathy
Read More Answers
May 5, 2010
0

found this helpful
I am looking for decorating ideas for my son's bedroom. He has a red car bed. What colour should I paint the walls?

By christy from Ilderton, Ontario, Canada


Answers:
Paint Color Advice for Child's Bedroom
Use a matching red for the wall where the bed is and another lighter color for the other three. The red should be repeated elsewhere, maybe the trim and/or door. The right warm beige might do on the other walls and ceiling. To make the room look larger, match the background of the curtains/drapes to the beige of the walls. I would suggest throw rugs on the floor to define areas and they should definitely be washable since this is a boy's room. Again repeat colors. If you go with the beige, a spot of vivid green might be considered. (04/03/2010)

By Sheilah Link
Paint Color Advice for Child's Bedroom
I would use a color that's complementary to the bed, perhaps a sunny yellow, light on three walls and darker on the third. 0r just use the same tone for all. You could get or paint racing flags (a yellow and black checked flag, a red one, etc. for wall decorations). If you could find and old racing car set, you could attach it to the wall also. I think that they even make one now that will actually work when attached to a wall. If you're handy, you could paint one wall in large black and white checks and the other walls in white or yellow, etc. (04/04/2010)

By Pam Griffis
Paint Color Advice for Child's Bedroom
My son's room is painted a deep bright blue in high gloss with white trim and he too has a red car bed. I also found at a yard sale, red race car valences. (04/05/2010)