December 4, 2006
0

found this helpful
What color should I paint a kids room who has ADHD?

Chyna from New Iberia, LA
December 5, 2006
0

found this helpful
I would suggest blue, it is supposed to be a very calming color
December 5, 2006
0

found this helpful
i was also thinking blue. it is calming.
December 6, 2006
0

found this helpful
Cool colors are the most calming. Stick with any cool blue, green, violet, or in-between shades. I'd be careful to use a medium to light hue, since the darker versions are bolder and more energetic, which is contrary to what you are looking for.
By guest (Guest Post)
December 6, 2006
0

found this helpful
i have a son with ADHD and i would say paint the room his favourite colour, just how far do you think this condition is going to affect you?
By guest (Guest Post)
December 6, 2006
0

found this helpful
I'd like to suggest that it's not just about the color, but the atmophere created within the room. For kids with ADHD, a low-tension, calming, relaxing, safe environment is best, so please consider not only colors, but other sights, sounds, and even textures.
Blue is very calming, but all blue can be a bit depressing. Brown and green are colors to use with blue as they are all grounding and natural colors.
Hope that Helps.
By guest (Guest Post)
February 20, 2007
0

found this helpful
Many years ago I saw a documentary on prisoners and how they painted a cell a strong pink. When a very violent prisoner was placed in this cell, after half an hour they calmed down completely. Prisoners who were placed in an normal cell were still very angry after an hour in there.
I know that pink may not be a good colour for a boy, or is this a girl that you are talking about?
Read More Answers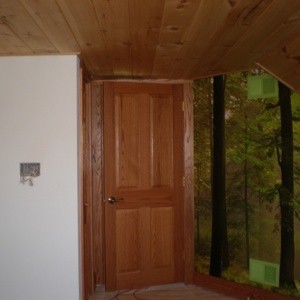 We are remodeling upstairs in our home and I am trying to find the right color for my daughter's new bedroom. There is light pine wood on the ceiling which slants down on two sides and medium stained baseboards and trim around one big window that faces north.
The room gets medium light from window. We put an autumn forest wallpaper mural on one small angled wall which has all different greens in it. I'm thinking a green color for other walls, but cannot find the right green. We want a woodsy forest look in the room, but something that she will still like as she gets older (8 years old now).
Any suggestions of some colors (exact name and brand) would be great. I am looking at several brands, Sherwin Williams, Dutch Boy, Glidden, Pittsburg, Behr, Valspar, and Ace. Possibly thinking of doing the window wall a lighter color than other walls? Not sure. Thanks.
By Kathy
Read More Answers
December 17, 2014
0

found this helpful
My walls are a cream with gold colorant in it (I like to think of it as cake batter yellow), and my floors are a medium wood color. My glitter-fied 11 year old daughter's bedroom joins mine. I want to know if I can paint her room a different color, even though our rooms are connected (there is a door but no hallway). If I paint her room the same color, can I infuse pink or purple drapes with the current color scheme?
By Meche Q
Read More Answers