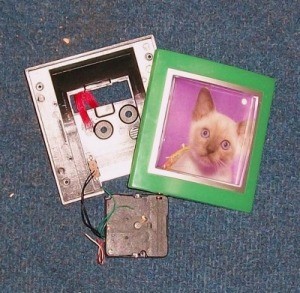 I bought a $2.00 Goodwill clock, only to find it didn't work once I put the battery in.
I have repaired clocks before, so I took it apart and found that the sweep hand was broken where it was to be on the shaft. Without it, the clock was pretty much worthless.
I was just about to put it in the plastic recycling, when I thought, "That looks like a frame." So, guess what I did?
I made it into one. It has the plastic cover, the color matches my purple and green room, and my 2.00 wasn't really wasted.
Hope you can do something similar when you are about to throw something out.
By Sandi/Poor But Proud from Coos Bay, OR