I took an old apple clock that quit working and gave it new life as a picture frame. Looks almost like a shadow box.

Approximate Time: 30 minutes to an hour
Supplies:
Old clock with glass face
Craft paper
Ink
Pictures
Buttons
Ribbon
Stickers
Double sided sticky tape
Tools to remove clock items
Tacky glue to put glass back in securely
Glue runner
Sticky dots
Embellishments
Instructions:
This was my mothers clock and she was throwing it away till I rescued it so the pictures inside are of her grandchildren.
Unscrew the clock mechanism from the back of the clock.

Remove the glass and surrounding plastic. (Just carefully pop this out.)

Clean everything thoroughly. (Mine was very dusty.)

Cut a circle piece of craft paper to fit inside. I just traced around the glass piece then cute about quarter inch smaller.

Put double sided sticky tape to the back of the craft paper, but only remove the backing on the side you stick.

Before removing backing to tape add all your elements to the paper. Get creative. Here's what I did:
Inked the edges of the paper in green and put some on the background paper.

Printed off a couple of pictures so I wasn't using the originals, cutting around them with decorative scissors then pasted them down with the glue runner.

Put sticky dots on the back of the buttons and the ribbon to adhere them.

Added a sticker that said "Grandchildren" and a little tag that says "Cherish."
After adding your decorations and photos remove backing from sticky tape, and adhere it inside the circle.
Put a bead of tacky glue around the channel where the plastic sits and place the glass and surrounding plastic back in.
Let dry then you have a recycled gift that mom will love.
By Christi from Paducah, KY
Answers:
Craft Project: Convert A Clock Into A Picture Frame
Here is one done by a friend long ago. Great way to give a keepsake picture. Thanks for the reminder.
(04/07/2010)

By Vi Johnson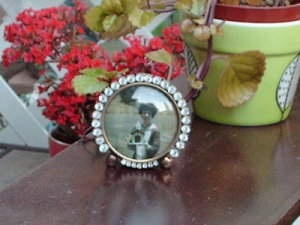 Craft Project: Convert A Clock Into A Picture Frame
Best use of an "old" apple clock that I've seen. It turned out to be such a nice keepsake. Thanks for sharing your idea.
(04/07/2010)

By Julia