Cooking Pasta
Solutions
Share on ThriftyFunThis guide contains the following solutions. Have something to add? Please share your solution!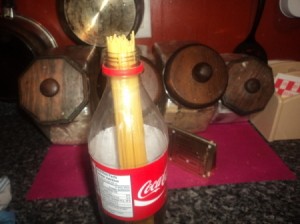 I use a plastic Coke bottle to get the perfect size portion of pasta. For adults, use a 2 liter plastic bottle, fill it until there is no room left at the mouth of the bottle. This will give you a nice hearty portion, and you won't waste anything.
By coville123 from Brockville, Ontario
Here are instructions to creating the perfect pasta. These are hints I have read about from many different Italian chefs. If you can boil water, you can make perfect pasta.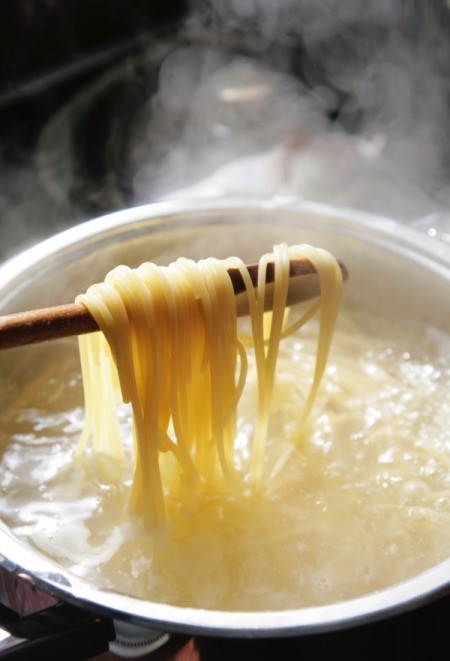 Perfect Pasta Tip #1:
Use a good amount of water
Use 1 gallon of water per pound of dry pasta. Plenty of boiling water helps the pasta rehydrate. Be sure to use a large pot. Otherwise the water will cool too much when you add the pasta. Your pasta may clump together or become mushy while the water returns to a boil.
Perfect Pasta Tip #2: Don't add oil
Don't add oil to the water. It's a waste. It's adding calories and its not going to do anything. Oil doesn't keep pasta from sticking together. The real way to stop pasta from sticking is to cook it in enough water.
Years ago by brother-in-law was a cook in the Army. He taught me a trick to make beautiful spaghetti noodles. You cook the noodles the night before. Drain the noodles and fill the pot with cold water. Place in the fridge over night.
The next day when you make the spaghetti, your noodles have swelled and you have beautiful plump noodles.
By Nancy from Mt. Airy, N.C.
To keep pasta from sticking to pot, add 1 tsp. of cooking oil to boiling water.
Read More...
January 8, 2005
0

found this helpful
Rub the top couple of inches of the inside of a pot with vegetable oil before cooking pasta, and the water won't boil over! By Robin
Read More...
December 11, 2004
1

found this helpful
After the water boils put the spaghetti in the pot and, stirring constantly, wait for the water to boil again. At that time cover the pot tightly and turn off the heat. Set your timer for 19 to 21 minutes depending on how well cooked you like your pasta.
Your pasta will be fully cooked with no boiling over and no wasted energy. If you have an electric stove take the pot of the burner before you cover it. By Anna
Read More...
To keep the starch from foaming and boiling over when you're cooking noodles, add about a tablespoon of butter to the water. This also makes the noodles more tender and tasty.
June 22, 2004
1

found this helpful
When cooking any pasta product I spray the water in the cooking pot before heating with the spray cooking oil. This puts a bit of oil in the water and prevents the pasta from sticking together.
Read More...
May 1, 2006
0

found this helpful
When boiling water for pasta, only put in the amount of water you really need and cover the pan until the water boils. The water will heat up faster.
Read More...
Questions
Ask a QuestionHere are the questions asked by community members. Read on to see the answers provided by the ThriftyFun community or ask a new question.
What is the amount of pasta and meat sauce needed for 200 servings?
By dora from TX
Answers
August 27, 2010
0

found this helpful
General rule of thumb is 2 ounces uncooked pasta per person so that would be 25 pounds of uncooked pasta. If pasta is all that is being served I personally would add about an ounce more per person (about 12 pounds uncooked) to be sure and, under the right health safety conditions, you can always freeze what's leftover.
;-)
I am not sure as far as the meat sauce but any sauce recipe can be multiplied by the amount of the pasta it recommends or if purchased in jars the label should tell you how many servings and just multiply.
August 27, 2010
0

found this helpful
Here, in Chile, I've prepared pasta for 60, and results: 1 person/10 persons, do not like pasta. (Eat just the minimum). Maybe you take it in mind. (Tenerlo en cuenta) (And I had four celiacs, too).
I think 120 grams each servings (dry pasta) and similar to Deeli respect the sauce.
August 27, 2010
0

found this helpful
I'm going to assume this group of 200 people are either a church group, or pehaps a family reunion, in which case, they would be served a salad and bread along with the spaghetti and hopefully a dessert.
Most men and some ladies will very easily consume 3 ounces of cooked spaghetti, but children will eat less than 1 oz, so as Deeli said, I'd figure on 2 oz of cooked spaghetti per person. You can plan on each person eating about 4 oz of cooked meat sauce, so you're going to need roughly 25 quarts (that's 800 ounces) of the sauce. I would add at least another quart of sauce for those who want more.
Incidently, both the spaghetti and the meat sauce will freeze quite well, but should be used within a month. If I were doing it, I would mix the pasta and sauce and freeze in quart containers.
Sounds like fun. I love cooking for large groups.
I hope this helps with your planning.
Pookarina
Answer

this Question

...
What is the suggested serving size for cooked pasta with meat sauce?

Mary from Ottumwa, IA
Answers
March 16, 2009
0

found this helpful
If you go by the nutrition guides, a serving of pasta is 1/2 cup.
However, that is simply the amount that they have chosen to figure the values on. It doesn't mean that's all you can have for the meal. Remember that you can have 6-11 "servings" of bread and pasta per day! (A "serving" of bread is one slice; that doesn't mean you can't have two and make a sandwich!)
In my opinion 1 to 2 cups of pasta would be a reasonable amount for a main dish, depending on the eater's size and caloric needs. I would add about 2/3 cup of meat sauce.
For a side dish of noodles, I would stay in the 1/2 to 1 cup range. A one-cup serving of noodles is a decent, not stingy amount.
Granted, this is not scientific, just my opinion.
Answer

this Question

...
Related Content