January 8, 2005
0

found this helpful
Rub cooking oil inside the top of a saucepan prior to adding the specified amount of water. As the food item boils, it will not boil over. (water and oil will not mix).
By Belinda
By (Guest Post)
January 8, 2005
0

found this helpful
when boiling starchy foods (potato, pasta, etc), lay a wooden spoon across the top of the pot. It will prevent the foamy boil-over that makes such a mess!
January 8, 2005
0

found this helpful
I sometimes spray a little oil into the water... it floats up and helps keep bubbles from forming
January 9, 2005
0

found this helpful
Why take the time to rub grease all around the pot, save some time, just drop a half of a teaspoon or so into the pot. Works just as good. The butter will melt and create a layer across the top of the pan and will keep whatever from boiling over, eg. potatoes and peas.
By cheryl (Guest Post)
November 4, 2006
0

found this helpful
Adding a little oil to the water not only keeps it from boiling over but also stops the spaghetti from sticking together
By Cindy H (Guest Post)
September 26, 2008
0

found this helpful
Or, there is also a small porcelain disc called a Pot Minder which when placed in the bottom of the pot of pasta, potatoes, or milk will also stop the water from boiling over.
It chatters, so if you're like me and leave the room, you'll hear it begin to boil, and you can turn down the burner if you'd like! :o)
Cindy H
http://www.jbkpottery.com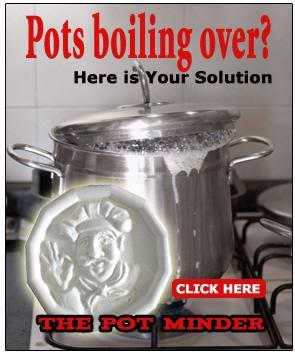 February 23, 2011
0

found this helpful
Rather than occupying yourself with all the fuss of this measured and time-consuming process, what if you just pour a small slosh of oil on the water before it boils? When I do that, I notice the oil coats all the top inside surface of the pan.