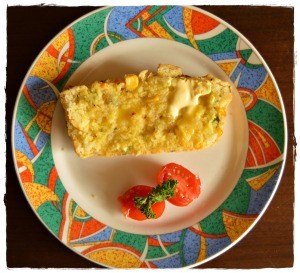 This corn and sweet basil bread is a good gluten free side dish to make when having a barbecue. It can also be served as a stand-alone dish, especially when served with butter and cheese, or with butter and biltong* powder.

Total Time: 50 minutes, baking time included
Yield: 9-10 slices of bread, depending on how thick the slices are
Ingredients:
600 g Organic Gluten Free Pizza & Pastry Multimix
1 can (410g) whole corn kernel, drained
2 beaten eggs
100 ml cooking oil
60 ml milk
30 ml soda water (carbonated water)
15 mg finely chopped fresh parsley
5 mg dried chopped sweet basil
2.5 mg hot English mustard powder
1 mg salt
non-stick cooking spray
paprika to dust the top of the bread
Steps:
Preheat the oven to 350 degrees F.
Drain the corn kernels.
Add all the ingredients to a bowl and use a wooden spoon to mix well together.
Lightly grease a 9 inch bread loaf pan with non-stick cooking spray.
Spoon the mixture into the pan. Dust the top with paprika.

Bake for 45 minutes, or until test skewer comes out clean when inserted into the middle.

Serve warm with butter.
*Biltong is a dried, cured meat that originated in South Africa.

June 21, 2016
1

found this helpful
Well, since this came from another country, I cannot tell what the measurements are in cups, teaspoons, etc. Also, some of the ingredients are not familiar to me - such as Organic Gluten Free Pizza & Pastry Multimix and hot English mustard powder. However, I am sure these folks get just as frustrated when we print our recipes with American measurements. We both need to use both in one recipe.

June 22, 2020
0

found this helpful
I used Google to convert much of the measurements. I hope this is helpful.:
Ingredients:
600 g (4 C.) Organic Gluten Free Pizza & Pastry Multimix
1 can (410g/ roughly 2 & ½ C.) whole corn kernel, drained
2 beaten eggs
100 ml (1/2 C.) cooking oil
60 ml (1/4 C.) milk
30 ml (2 Tbsp) soda water (carbonated water)
15 mg (3 tsp) finely chopped fresh parsley
5 mg (1 tsp) dried chopped sweet basil
2.5 mg (1/2 tsp) hot English mustard powder (suggest Coleman's)
1 mg (scant ¼ tsp) salt
non-stick cooking spray
paprika to dust the top of the bread