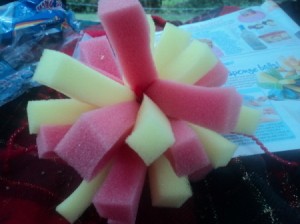 These were fun and easy too make. The kids like playing with them. They are soft and kids won't get hurt.
Approximate Time: 15 minutes
Supplies:
3 sponges per ball (coloured ones)
wool or dental floss
scissors
Instructions:
Cut each sponge in half length wise, and in half again, creating 4 pieces. Repeat with 2 more sponges.

Arrange all the pieces in your hand be sure to mix up the colours.
Squeeze together tightly have a helper tie the string around the sponges and double knot it.

Trim up the ends of the floss, fluff it out and you will have a ball.
By coville123 from Brockville, Ontario
September 21, 2005
1

found this helpful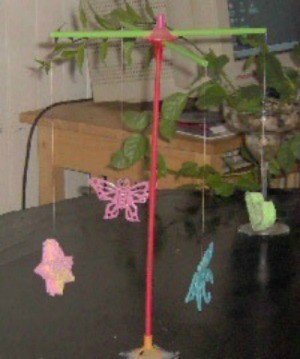 It's amazing what a little creativity and imagination can do with some very simple items. The sponge mobile is a fun project for a rainy afternoon with kids. Depending on how it's hung or stood, the dancing butterflies, hearts, and stars can play above a cradle or stand in the middle of a kid's birthday party table.
The sponge mobile is another testament to the wonderful versatility of the local dollar store. All the supplies were bought there for a buck apiece, making the total cost of the whimsical centerpiece $3 - and that's including the glue.
We used hearts, stars, and butterflies for our mobile, and I've provided stencils to make it easy for you to duplicate it. If you're making a mobile for a little boy, though, it's just as easy to cut up sailboats and anchors, or baseballs and footballs. You can attempt to cut them out freehand - or you can do as I did for the butterflies and find a good coloring book with well-defined lines to use as a stencil. Just glue the coloring book page to cardboard and cut it out.
I was lucky enough to find the balloon sticks and cups in a party favor kit at my local store. If you can't find them, check with a party store or any store in your area that does party balloons. Chances are they'll be happy to sell you a stick and cup or two for a buck or less. Do look for them - it makes the trick of putting the mobile cross stick together about 1000% easier.
Materials
1 4-pack of colored kitchen sponges
1 balloon party favor kit or 2 balloon sticks and 3 balloon cups
1 tube instant glue like Krazy Glue
kitchen scissors and X-acto knife
nylon monofilament thread
Instructions:
Print the stencils provided below on heavy paper. Glue paper to heavy cardboard, and cut out, using X-acto knife to trim away interior of butterfly wings.
Using the stencils and a fine point marker, trace each design onto a kitchen sponge. Use a different color for each design, or coordinate the colors, whichever is your pleasure.
Using kitchen scissors and the X-acto knife, cut along the traced lines to create the hanging star, heart and butterflies.
Using the kitchen scissors, cut one balloon stick in half.
Thread a heavy needle with a 36 inch long piece of monofilament. Take several stitches in one place at the tip of the star to attach the thread. Drop the needle through one hollow tube half. Take several stitches at the center of the heart.
Repeat step five with the two butterflies.
Snap one balloon stick half through the center slot of one balloon cup. Repeat with the other half. Using a drop or three of Krazy Glue, glue the two balloon cups together, face to face, with the sticks between them.
Glue the long end of the remaining balloon stick into the opening of one side of the double balloon cup. Glue the other end into the remaining balloon cup.
The mobile can be hung upside down from a ceiling hook, or stood on a table - though you'll need to tape or glue the bottom balloon cup to a heavier weight if you decide to stand it.
Finishing Touches:
Pull the thread through the hollow tubing until the sponge decorations are arranged to your liking, then dab a drop of glue at the end of the balloon stick to hold the thread in place.
Heart Stencil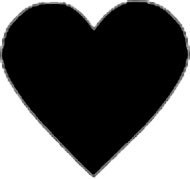 Star Stencil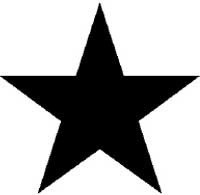 Butterfly Stencil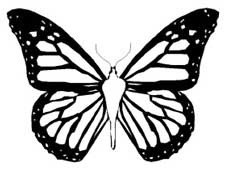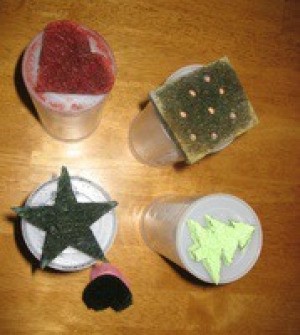 Try this different style of painting with your child. I'm sure they will have fun with it, and you just might get into it yourself!
Supplies:
sponges
scissors
disposable plastic container lids or shallow dish
empty bottles with lids on them
strong glue
food coloring or dye
hole punch (optional)
rubber band (optional)
paper
Instructions:
Cut shapes from sponges and use strong glue to attach to the top of an empty plastic bottle with a lid. I used empty Crystal Light containers, but there are countless options here. For one sponge you could use a hole punch to make holes. For another you could wrap with a rubber band to make a spiral. Use your imagination!
Place a sponge for each color in an empty disposable plastic container lid or shallow dish. Saturate with food coloring or liquid dye.
Once the glue on the "stamps" has dried, press into the colored sponge and then press onto the craft paper.
There are so many things you could make using this technique. After playing around just on craft paper, you may want to venture into card making or personalized gift wrap. Why not even use the same technique with paint for a wall border?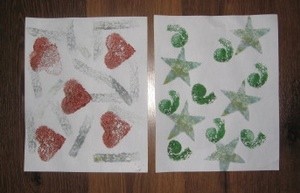 By Jayme from Harrisonburg, VA