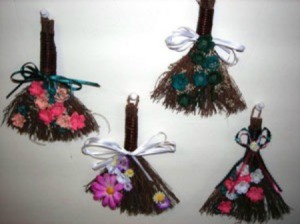 These 6 inch brooms can be made to match any decor, and made for your own use or as gifts, used as gift tie-ons, or sold at a craft fair. Although I haven't tried it yet, I'm thinking they might even be a cute addition to a summer wreath. My brooms were particularly cost effective to make as I purchased all of my materials at garage sales.
Crafting Time: 30 - 45 minutes
What You Need
6 inch straw broom
scraps of ribbon or pre-made bows
small silk flowers and bits of baby's breath
craft glue or a hot glue gun
Directions
Cut off the flower heads and arrange them with baby's breath over the surface of the broom. When you find a pleasing arrangement, THEN glue them in place. Glue or tie-on ribbon bows.
Each broom already comes equipped with a loop at the top of the handle for hanging, so there's no need to add one.
By Marie E. Cecchini from West Dundee, IL
Read More

Comments