I am searching for ideas on reusing glass flower vases. I want to do something with them for a Christmas bazarr. I have all sizes and shapes of vases and rose bowls. It needs to be something easy and inexpensive, as I have many! I hate having to toss them.

Thanks, in advance, for any 'solutions'!

Billie
Answers
October 16, 2004
0

found this helpful
If you know how to crochet, there are patterns available for crochet flowers and instructions to attach them to stems. You could put a few flowers in your beautiful glass vases. Here are a couple links to Michael's website where some of these patterns are available for free. Here are a couple links.
http://www.mich &categoryid=
http://www.mich &categoryid=
Great gifts also for friends in the hospital.
Harlean from Arkansas
By Ginnie Wilson (Guest Post)
October 16, 2004
0

found this helpful
You can use the smaller vases as candle votives. Just put small colored candles in each and tie ribbon around the top in the same color. You can get the candles at dollar stores very inexpensively.
Also, the larger ones will make good holders for potpourri. After filling, cover top with lace, tulle or doily and also tie ribbon around the cover. Also find potpourri at dollar stores inexpensively or make your own.
Hope these help.
October 16, 2004
0

found this helpful
My husband noticed surplus of empty vases
and (he's a keeper) so he took them to
local florist and got great deal and I
had flowers free for each season. The florist
took the vases and each season gave him
a gorgeous arrangement. Works for me!
Annie~Butterfly~ in MO
October 16, 2004
0

found this helpful
I would decorate them nicely with ribbon, bows, greenery, pinecones and any Christmas craft stuff on hand, then tuck in some fresh greenery and the smells of Christmas enter your home. Especially nice if folks have a fake tree. Or use them, decorated, as containers for anything. Well washed they can hold food-maybe homemade cookies or granola, bath salts, and if they are the really big ones, a bottle of favorite beverage. When my dad broke his leg a neighbor gave him a vase with a bottle of liquor in it, hidden by a very ugly spray of plastic flowers. We all thought it was a really tacky gift, until we discovered the bottle hidden within!
By Kelly (Guest Post)
October 16, 2004
0

found this helpful
Get a small strand (50 or less) of white christmas lights (found mine at the Dollar Store), bag of poutpourri, a lace doily big enough to cover the opening of the vase, and ribbon. Fill the vase with the lights and poutpourri. You want to add each a little at a time so that the lights are mixed in through out the poutpourri. Make sure you leave the end of the light cord out of the vase.
Put the lace doily on top of the vase (you may want to use the glue gun to help hold it in place) and tie the ribbon around. When you plug this in, it looks beautiful, and the lights heat up the poutpourri enough to release the scent. It does not get hot enough to burn though as long as you use a strand with a small number of lights (I used 50, but if you can find fewer that is even better).
October 17, 2004
0

found this helpful
You could get multi colored tissue paper. Red, Green, Royal Blue, etc., and glue torn pieces onto the vases. Then put a candle inside each. My son did this one at school with a small jar and I have two (2) slender vases that I bought to do this to. The effects are beautiful.
By Michelle (Guest Post)
October 17, 2004
0

found this helpful
If you have fabric around the house, it makes a cheap and easy way to decorate a vase. Cut the fabric to fit the vase but allow extra material at the top.
Place a rubberband around the neck of the vase and slip the fabric on the inside of the vase neck, under the rubberband. It's nice to change them for the seasons or even special events.
By Peace (Guest Post)
October 21, 2004
0

found this helpful
I collected some vases and clear jars, added sand and shells. Buyers loved them.
I made smaller ones with plastic jars for preschool discovery table and secured lids very tightly with glue. In addition to shells, I added other interesting items such as a small toy car. They played "discovery" with them, by shifting the jars back and forth to see what would "come up."
October 29, 2004
0

found this helpful
All great ideas! I'm very visual so I recommend visiting this site and either posting your question or doing a search of the forum for past posts. There are many, many pictures!! HTH.
By Leah Johnson (Guest Post)
May 27, 2005
0

found this helpful
An inexpensive way to decorate for Summer is to put lemons in the bottom of a vase or bowl and then put a few blue silk flowers coming out of the top
By (Guest Post)
March 29, 2006
0

found this helpful
glass painting or glaze pens could be used to decorate them.
Answer

this Question

...
I have several medium to large glass vases that are sitting around collecting dust. I'm wondering about crafts to do with them. I have one on my table filled with pine cones and acorns and other seasonal dried flora as decoration. Thanks!

Stefani from Lexington, KY
Answers
By K (Guest Post)
November 11, 2007
0

found this helpful
My mom for the holidays used to fill them with round Christmas ball ornaments and put a string of mini-lights in/around the balls and it looked really pretty.
I have also seen "reverse decoupage" on glass vases and such. Just like reg decoupage only you put the stickers or paper cut-outs or photos on the INSIDE of the glass.
I have also seen arrangements where you put in cranberries on the bottom third or so and place a white pillar candle in the center for Thanksgiving.
If you have a larger wider one you could make a terrarium in one. Or fill one with layers of different colors of sand where you make sand art.
Any kind of collections of small items like marbles or small toys or sewing thread or candy looks good in glass. Or fill with lemons or nuts in the shell or seashells.
Get a beta fish and use a vase for it's home. They like small spaces I hear.
You could buy some etching cream or glass frosting spray paint or colored glass paint and make a design on a vase.
November 12, 2007
0

found this helpful
If the vase(s) have smooth top edges, get a glass plate(bread and butter size or a saucer) in clear glass. Using assorted colors of aquarium sand, make a layered design, dipping skewers in to make changes in the lines of the design if desired. Then,using a glass or porcelaine glue,attach the plate/saucer to the top of the vase, bottom side to the lip of the vase. Add a pillar candle and u have a lovely candle stand.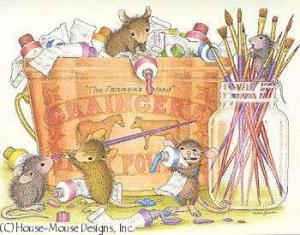 November 18, 2007
0

found this helpful
I have not tried this but I will; get a plate larger than the top of the vase but not too big that it will make it tip.
you can put something colorful inside (or not) and use glass glue to glue the plate to the top and you have made a cake plate that is one of a kind. another idea is to fill vase with potporri(spelled wrong?)and throughout the potporri put a string of Christmas lights leaving the plug out of course cover the top with a pretty paper or real doily(sp?).
So when you turn the lights on, it smells good luck to ya me to ;)
By Brandi (Guest Post)
June 17, 2008
0

found this helpful
I have actually been looking for some glass vases so that I can put small jewels or aquarium rocks or small shells in the bottom, then put a candle in a decorate with ribbon, although i was thinking about also sponge painting part of the jar for decor too! Hope it helps someone else!
Read More Answers