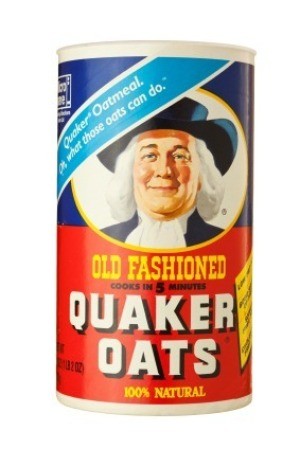 Uses for oatmeal containers as suggested by the ThriftyFun community.
Storage Containers
I use mine in various ways. Cover with decorated paper and fill with homemade cookies to give as presents. I even make homemade dog cookies and give to friends with dogs.
Use to store dried bread crusts. Later use the bread crusts for cooking. Also pasta and the like.
I store a lot of things in them; lids for canning, old candles that I use for various projects later, yarn, ribbon and other projects 'stuff'. I put a picture of the time on the box to make identification quick and easy.
By Therese
Weblinks With Ideas
I saw on TV or in a magazine where they stacked them on their sides in rows and stacked (can't remember how they kept them together, might have been tied or glued or both) but they used them to store small craft bins or yarn or small kids toys, etc. The link below is somewhat similar:
A Few Other Ideas:
By KL
Form for Concrete Legs
I emptied one yesterday and thought those could be used to make round, concrete legs for a low bench or something. Maybe someone can make my idea work.
By Lilian
Yarn Storage
They make great Yarn holders! Just cover them with contact paper or wall paper to make look pretty and then make a hole in the lid to pull your yarn through.
Make A Little Purse
When I was about 4, my mother made me a beautiful Easter dress and a matching drawstring purse. She used an oatmeal container for the base. She cut the container in half, and she lined it in muslin then covered it in a white dotted fabric that came up to a drawstring closure, made out of white silk ribbons. Then she used fabric left over from my dress to put over the container and brought up to little points on each "corner" and put a small button on these. This was a cute, and very sturdy little purse. Long after the dress was outgrown, I still played with the purse. As a matter of fact, my daughters played with this purse too. It was kind of dingy by then, but was still structurally quite sound!
By Bailegirl
Mailing Cookies
Decades ago when my husband was in Vietnam, I would use empty oatmeal cartons to mail him cookies.
Toy Drums
Drums for little boys are fun. Decorate with paper, punch 2 holes on the sides for a rope so he can wear it around his neck or if it needs to be safer for smaller baby just cover with paper, give a little wooden spoon and let him bang away. My son loves these. I also used them to make a baby bank. I made fake money. I used rounded oj lids and covered in paper. Later i put a little dry beans and rice and sealed tight for a noisemaker. I can't get enough oatmeal containers!
By Wayfarer
Do you have any more ideas? Post them below.
Answers

February 20, 2008
0

found this helpful
i made them into drums with my preschoolers for music week but i got a few rubber raincoats at goodwill and puched holes into a few places and punched holes to match in canister and we tied the rubber part to top and then we covered the drums in paper and let kids glue on foamies and color etc my son and daughter made one too they have had this for going on 4 yrs now!!!we stretched the rubber really tightly so it really did sound like a real bongo drum
Read More

Answers

I have a lot of round oatmeal boxes. Any ideas of what I could make or use them for? Thanks

Sandy from Mountain View, AR

Answers
By jean (Guest Post)
January 31, 2008
0

found this helpful
My daughter uses them for guinea pig beds and ferret tunnels. The guinea pigs chew on them, and the ferret loves to play with them. Take the bottom off for the ferret.
By suzin (Guest Post)
February 1, 2008
1

found this helpful
Use the oatmeal container for a kleenex type tissue container. I cut off the top part of the oatmeal box, measuring how much I need for a roll of toilet paper to sit in it. Take the plastic lid and cut a hole in the center. Remove the cardboard center from the toilet paper roll. Put the toilet paper in the oatmeal container.
Insert the INSIDE end of the toilet paper roll in the hole you made in the plastic lid. Tape the plastic lid on with the end of the toilet paper pulled through it. You can decorate the outside of the container to match your decor. Pull out the desired length of Toilet paper you need to use.
By Linda (Guest Post)
February 1, 2008
0

found this helpful
Use the containers to mail cookies to soldiers deployed in Iraq and Afghanistan. We sure could use them here. The hold a good size homemade cookie and protect them from the rough trip.
You can mail a good amount of anything to the soldiers in a "flat rate" box -- $8.95 -- no matter what the weight, up to 70 lbs. Quite a bargain for the much appreciated effort.
By Bonnie (Guest Post)
February 1, 2008
0

found this helpful
My Mom would cut the oatmeal box in half the long way and make a little cradle for my doll. Also, I used an oatmeal container to make the engine for a train.
It held valentine cards for my daughter's valentine day party at school.

February 1, 2008
0

found this helpful
Don't have any ideas for the containers, but I use the plastic lids from the 18 oz. oatmeal containers for soap dishes. Since they've switched so much to the liquid soap dispensers, it's gotten so hard to find soap dishes like you used to be able to buy that have a little drain hole on the side that lets the soap scum drain down into the sink. So I've found that the lids to the 18 oz. size oatmeal containers work great; just cut a small (about 1/4-1/2 inch wide) hole in the side and add (if you can still find it--I found some at Bed, Bath and Beyond) one of those little "toothy"-looking soap drainers that'll hold the soap bar up off the bottom of your homemade soap dish.
(Weird: I can still find the "toothy" soap drainers at stores like Bed, Bath and Beyond but not the actual soap DISHES with a drain hole; go figure.)

Harlean
Bronze Post Medal for All Time! 148 Posts
February 2, 2008
2

found this helpful
Use them for freezing cookies, dinner rolls, crackers, or potato chips. They will stay fresh, but not draw moisture and get frost covered. Also protects them from getting smashed and broken in the freezer.
Harlean from Arkansas
By Jessica (Guest Post)
February 2, 2008
0

found this helpful
My son did his room in an Asian theme, we painted the can black I hot glued white beads on it in, spelling out love, joy, and peace in Japanese. We filled with sand and added cherry blossom plants (plastic of course). It looks wonderful.
Read More

Answers