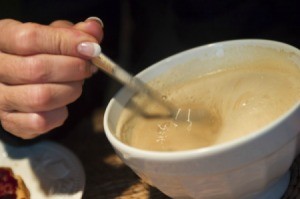 This is a recipe I have had long before fat free canned soups appeared in the local grocery store. I copied it from a newspaper article years ago. The recipe is wheat/gluten free!
Ingredients
2 cups powdered nonfat milk
1/4 cup instant chicken bouilion
1 teaspoon basil leaves
1/2 teaspoon pepper
3/4 cup cornstarch
2 tablespoons dried onion flakes
1 teaspon thyme leaves
Directions
Combine all ingredients, mixing well. Store in an airtight container until ready to use.
To substitute for 1 can of condensed soup: Combine 1/3 cup mix with 1-1/4 cups cold water in a saucepan. Sir to moisten, then heat over low medium-low heat until thickened. Add to casserole as you would canned soup. Can be used in casserole or as the base for homemade cream soups.
Equivalent to 9 cans of soup or 18 servings.
Per serving: 43 calories, 0 g fat, 1 mg cholesterol, 63 mg sodium
Source: It was copied from the Charlotte Observer about 20 years ago to the best of my knowledge.
By Carol from Hartselle, AL
Comments
Read More

Comments