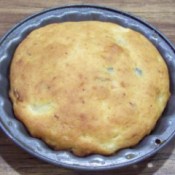 I have over 150 muffin recipes. I just entered these in the Oregon State Fair, so I wanted a unique ingredient. I love this because it's great for a quick snack, is low in fat, and is just the most amazing combination of sweet and savory.
Ingredients:
2 cups flour
3 Tbsp. baking powder
1 Tbsp. salt
1/2 cup white sugar
1 egg
1/2 cup milk (2% is best)
3/4 cup applesauce
1/2 cup cream of chicken soup
1/2 cup shredded chicken (left-over is best)
1/2 cup grated carrots
1 small sweet onion, chopped
1/2 cup chopped olives
1 tsp. dried parsley
Directions:
Cook onion and carrots in skillet till golden, set aside to cool. In large bowl, combine flour, baking powder, salt, and sugar.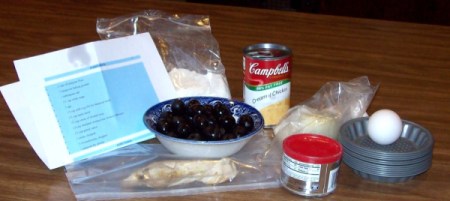 In another bowl, whisk egg, milk, applesauce and soup. Combine with dry ingredients and add chicken, olives and parsley.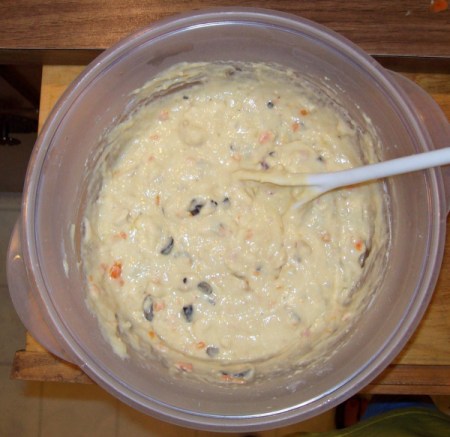 Fill greased or lined muffin tins 2/3 full.

Bake muffins at 400 degrees F for 20 minutes.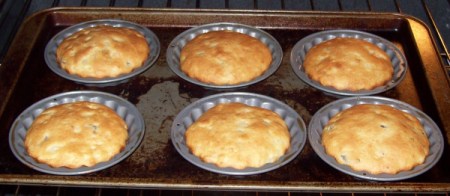 Note: I made muffin tops, so the pans are individual. I filled them as seen in photo, about enough to cover the bottom of pan and spreading out a bit towards the top.
Cooking Time:
19-20 Minutes
Source: I had a series of cards, but by bake time for the fair I couldn't find them. I googled "Chicken Soup Muffins" and got this one off of www.cafeyak.com
By Sandi/Poor But Proud from Salem, OR
Editor's Note: Sandi has since reported that she won first place for her fair entry and sent us a photo of her ribbon. Congratulations!