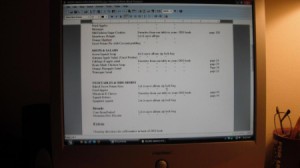 Over a period of 50 years or more, I have collected many good recipes. Some I have written down and stuffed in a zip lock bag and some I have on index cards in a small photo album. Plus, I have a large collection of recipe books and two recipe file boxes full. When I want a certain recipe, it can be a problem finding it.
Recently, I started a document listing my favorite recipes and where to find them. Not only has it helped me find a recipe, it has helped me figure out what to prepare when I need to make a dish for a covered dish meal at church or a family reunion.
I have a million other things I need to do so this is going to be a long process but well worth it when I'm done. Right now, when I pull out a recipe or come up with one of my own that I have written on an index card, I add where I keep it to this document.
With my recipe books, I have found it helpful to mark in the index, the recipes that I have tried and liked.
I need to weed out my recipes and give some of my recipe books to someone that needs them. Now that it's cold outside and no yard work or gardening to do, I'm working on decluttering. Sometimes, less is more.