EllenB
Gold Post Medal for All Time! 858 Posts
It's wonderful to walk through a garden of blooming flowers, and it's even more rewarding when you can enjoy some those fresh bouquets. Instead of having to choose between having some color outside or indoors, or worrying about over-cutting your beds and leaving them bare, why not designate a bed (or a few containers) just for planting flowers for cutting.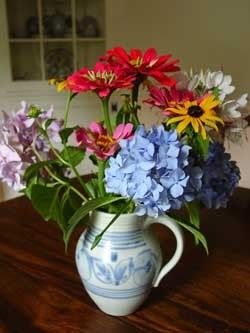 Site Selection & Planning
The majority of the flowers you plant for cutting will be annuals. Most of them prefer growing in full sun, and in nutrient-rich, well-drained soil. If you have the room, designate a spot away from the rest of the garden-a corner of the yard or even the vegetable garden. A small, 5 X 10 plot will produce an abundance of stems for cutting. Otherwise, simply plant your cutting flowers in with your other annuals and perennials. You can always do a little "potscaping" to fill in any bare spots when you've finished cutting.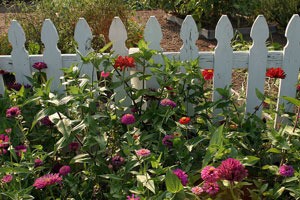 Container gardeners can simply designate a pot or two for growing cut flowers, or better yet, plant seeds in small enough pots so they can be moved easily indoors when the flowers starting blooming.
Before you plant, make sure you amend the soil with compost and peat moss as necessary and water the area thoroughly after planting. Plan on adding a slow-release organic fertilizer periodically to give flowers a boost.
Start Out Small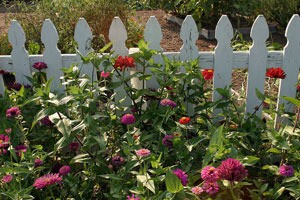 Starting with mass plantings of 3 or 4 varieties is best. It may not seem like much of a variety, but you'll probably be supplementing your fresh arrangements with flowers from your perennial beds or using the branches from the trees and shrubs in your garden for fillers. By having more plants of just a few varieties, you'll be able to create more full arrangements and cover any losses incurred due to insects, disease or bad seeds.
Plant in Succession
To keep your cutting bed blooming like crazy, as soon as one group of flowers is harvested, you can pull up any remaining plant debris and immediately replant the area. This means you'll want to group plants with similar bloom times together for the sake of space and efficiency. An easy way to figure who to plant with whom, is to divide a piece of paper into three columns-spring, mid-season and fall-and write down when each variety will bloom.
Staking
Flowers suitable for cutting tend to have long stems. This means they may need to be staked. This is easy if you can plant your flowers in rows. You'll simply need to erect one long fence or support system along the entire length of the row. If you don't like staking, this can be somewhat minimized by planting flowers slightly closer together than recommended so that stems can support each other as they grow. Be careful not to plant them too close, however, or you'll end up compromising the size of your blooms.
The Right Time to Cut
Cut your flowers during the coolest part of the day-usually early morning. Before cutting, shake the stem gently to remove any visible insects. Use a sharp knife or a small garden shears to get a clean cut. Even the sharpest scissors can crush the vascular tissue to the stem and inhibit its ability to take up water. It's a good idea to take a bucket of tepid water with you to the cutting bed so you can put the cut ends in water immediately.
Keeping Flowers Fresh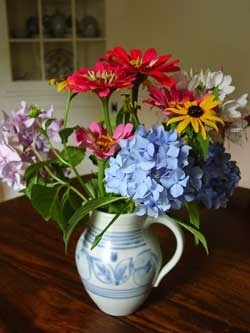 To prepare flowers for an arrangement, strip off any leaves or flowers that will be underwater while in the vase. After determining the correct length of the stems for your arrangement, cut the ends at a 45º angle.
To feed your cut flowers, discourage bacteria and encourage water uptake, mix 1 teaspoon sugar, 1 teaspoon bleach, and 2 tablespoons lemon or lime juice in a quart of warm water. Cut stems will generally absorb lukewarm water more readily, but cold weather flowers, such as tulips, will keep better if placed in a vase of cold water. Keep fresh flower arrangements away from heat, direct sunlight, and ripening fruit. Check the vase's water level daily and remove and limp stems and flowers.
Plants for the Cutting Bed
Although many types of plants can be used in fresh arrangements, longer, strong-stemmed varieties of flowers are considered best for cutting. Here are only a few suggestions:
Annuals: Aster, Brazilian vervain, bells of Ireland, bachelor button, calendula, celosia, cosmos, dianthus, floss flower, globe flower, larkspur, marigold, love-in-the-mist, nasturtium, salvia, snapdragon, statice, sunflowers, sweet pea, verbena, and zinnia.
Perennials: carnations, chrysanthemums, columbine, coneflowers, daffodils, dahlia, daisies, gladiolus, heliopsis, lilac, Oriental lilies, peonies, phlox, Solomon's seal, tulips, and yarrow.
Filler Plants: ornamental grasses, ferns, artemisia, baby's breath, ivy, coleus, dusty miller, hostas, lamb's ears, lavender, dried seed pods, branches from evergreens, boxwood and dogwood.